Kitesurfing in Mauritius
Kitesurfing in Mauritius
Although a lot of people are not aware of it, kite-surfing has its roots as far back as the early 1800s, but was formalized in the mid 1990s. It is often described as a mixture of different water and flying sports like windsurfing, wakeboarding, surfing and paragliding.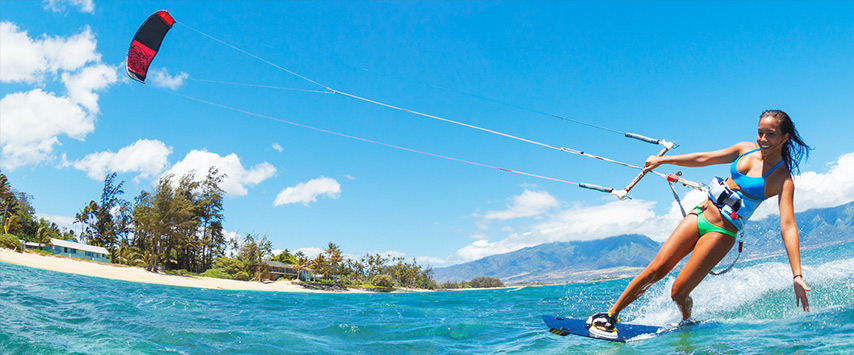 Mauritius, with its wide lagoons and South East Trade winds offers all the required ingredients for a thrilling kite surfing adventure. Mauritian waters offer opportunities both to beginners and experienced kite surfers it is thus seeing more visitors choosing the destination for its kite surfing opportunities.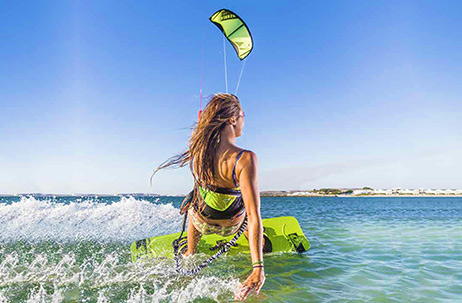 The country now counts 8 registered kite surf schools and rentals. As most water sports, these services are usually available within hotel premises, but are not limited exclusively to the hotel's customers.
Moreover, these schools main instructors have got the International Kiteboarding Organisation certification.
These schools also offer kiteboard rental either per day or per week.
The equipment is of international standards and regularly updated. Some schools also offer downwind and lagoon crossing trips for small groups interested in surfing around the island.
However, they have to be booked well in advance for logistics reasons.
Even if experienced kite surfers are tempted to just go with the flow, it is advisable to have all necessary information, so as to know where the best spots are, what is the best time of the year and what are the precautions needed on specific spots.
When?
Since water temperature will not go below 20°C, there is no unsuitable season for kite surfing. Even the winds make it possible to kite surf all year round. However, during the months of June to January, winds can get very strong.
Where?
Le Morne: One Eye
Le Morne is very famous today, and everyone agrees that its One Eye spot is the best kite surfing spot in the country, and some would even argue that it is the best in the world! As a matter of fact, semi professional and professional kite surfers from the whole world come to live the One Eye experience. This site can be exposed to smooth, extreme or strong winds, waves and currents.
Kite surfing there gives the opportunity of having amazing panoramic views over the turquoise lagoon of Le Morne, as well as the imposing Le Morne Brabant mountain, just next to the spot. The sailing area hosts various hotels that give all facilities for kite surfing experience.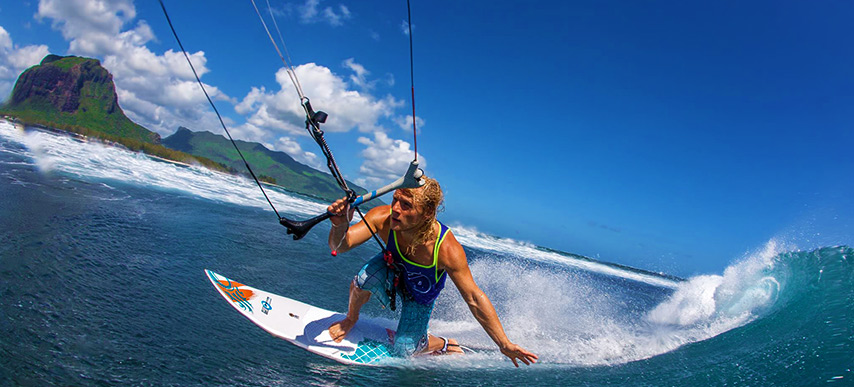 The tides at One Eye are higher during summer, especially between December and April, and the depth of the water will depend on the waves. Le Morne spot however does have a few hazards that have to be avoided, namely some large rocks. They is however clearly visible through the water.
The drawback at Le Morne spot however is that it attracts a lot of kiters, especially at week-ends where there are swimmers as well. It can thus be very crowded. Moreover, it can be challenging for beginners due to strong currents that can take them by surprise within seconds and pull them outside the lagoon. It is thus advisable that beginners consider the 16 other spots around the island.
West Coast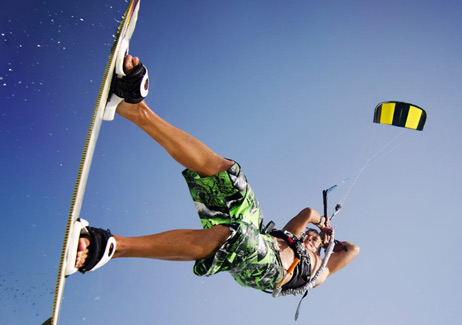 The spots located in the South West offer some good kite surfing opportunities.
In places like La Prairie and Baie du Cap, beginners as well as experienced kiters can kite freely and safely in vast lagoon.
On the West, spots in La Preneuse, Tamarin and Flic-en-Flac also offer good opportunities, though some experience would be required beforehand.
The advantage to be in Tamarin is that it has already a long surfing tradition, and also the longest established surf shop in the country, close to the beach. Wind surfing and kite surfing equipment is also available there.
The drawback on the western coast is the presence of swimmers as well as boats. Moreover, it happens that winds suddenly cease.
The North
It is not very common to kite surf around Trou aux Biches, as the winds there can occur very rarely. Surfers will then tend to go outside the lagoon, which is not very appropriate for beginners. Bain Boeuf can be a good alternative in the north. Cap Malheureux, Anse La Raie and Butte a l'Herbe are also kite surfing spots, though more suitable for intermediate to confirmed kiters. The drawback of the Northern region is that a lot of beaches there are crowded with people, and swimmers flock in the sea. Speedboats are also numerous.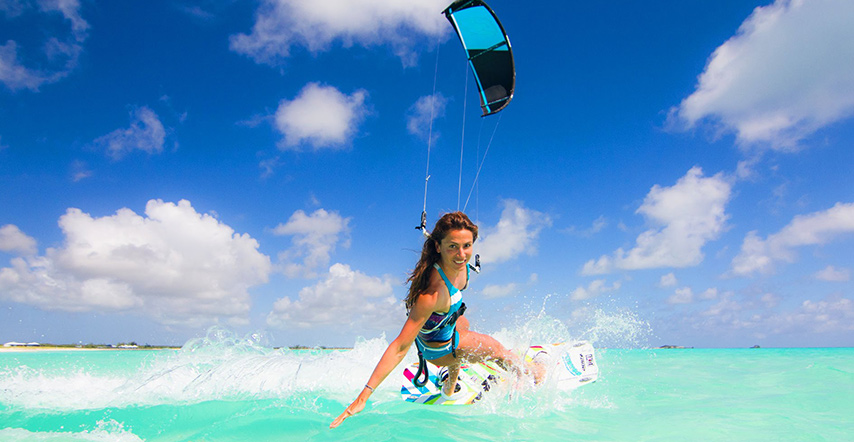 The East
The advantage with the East coast, including the South East coast is that the kite surf spots there are adapted for all levels, the best period being from April to November. Spots in this region include Belle Mare, Pointe d'Esny and Blue Bay spots. Shallower spots are also available in Poste Lafayette, La Colombiere, Trou d'Eau Douce and L'ile aux Cerfs. The main drawback of this region however is that the lagoons are irregular in depth, and coral patches can thus be a hazard. Moreover, there are several passes in this region, with strong currents that can pull the kiters outside the lagoon. It is thus advisable to kite well inside the lagoon in this region.