Diving in Mauritius
Diving in Mauritius
Mauritian waters offer various opportunities for scuba diving and different regions have different specificities when it comes to exploring the marine fauna and flora. Water temperature makes it possible to dive all year round, though the period from November to April remains the best, since water temperatures can go as high as 29°C.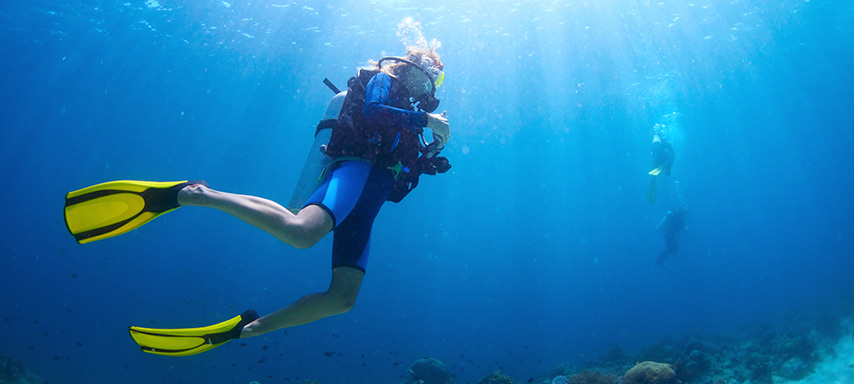 In winter, the visibility is poorer as the sea can get rough. Moreover, there are numerous sites to see, each having its own specificity. There are about 20 shipwrecks around the island where diving can be practised and beautiful pictures taken. Night diving is also organized all year round. For beginners, training is offered, usually with a limited number of divers.
The different sites are divided into 3 big diving zones, the North West from Tombeau Bay to the northern islets around Gunners Coin, the South West from Le Morne to Flic-en-Flac, and the East from Belle Mare to Mahebourg. The lagoon itself is not appropriate for scuba diving except Balaclava and Blue Bay Marine parks. The sites outside the coral reefs are suitable for diving and can easily be reached by boat.
North / North West
There are numerous shipwrecks in this region and they act as artificial reefs, thus offering amazing opportunities for diving. The islets offshore around the northern coast also offer interesting diving experiences.
However, the diving clubs seldom go there due to their distant location. The vicinity of Gunners Coin, Round Island, Flat Island and Serpent Island offer perfect visibility. Some interesting spots are also found around Grand Bay and Trou aux Biches. Fish that can be seen there include sharks, shoals, barracudas, marlins, giant moray eels, titan triggerfish, turtles as well as colourful corals and gorgonians.
The main diving sites in this region include:
"Stella Maru" (Shipwreck at Trou aux Biches)
"Silver Star" (Shipwreck at Grand Bay)
The Wall (Gunner's Coin)
Whale Rock (Grand Bay)
Lost City (Grand Bay)
The Tube (Grand Bay)
Waterlily (Grand Bay)
Roches Baleines (North)
"Shark Pit", behind Flat Island
Pigeon House Rock (Flat Island)
"Hassen Mian" (Shipwreck at Balaclava)
Stenopus Reef
"Banc Rouge"
"Sleepers'Cave"
West/South West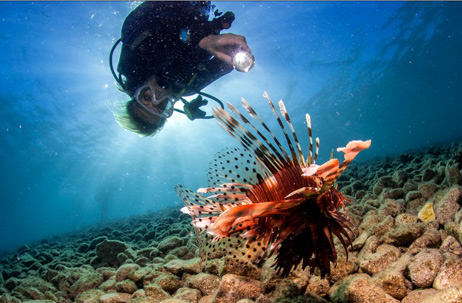 The particularity of this marine region is the dolphins that often wander around and the coral sites that are more colourful in this region. Whales can also be seen around.
Cavities, caves and arches can be found in these areas and a lot of different fish take shelter in this amazing underwater scenery. There are also quite a few shipwrecks in this region. The various species that can be seen in this region include stonefish, scorpion fish, lionfish and moray eels.
Diving sites in this region:
1. Cathedral (Flic-en-Flac)
2. Rampart Serpent (Flic-en-Flac)
3. "Tug II" and "Kei Sei 113" (shipwrecks at Ile aux Bénitiers)
East/South-East
The particularity of this marine region is the numerous "passes" or channels that allow access to the open sea. The Belle Mare Pass is said to be an amazing experience due to the fauna around, though diving is said to be physically exhaustive due to strong currents. In the vicinity of Mahebourg, the geological structure of the diving sites with caves, arches, tunnels and canyons, as well as the wreck of the historical "Syrius", the British frigate destroyed during the Naval Battle in 1810 by the French Navy. Species that can be seen around are sharks, rays, barracudas and jacks among others.
Diving sites in this region:
"Roche Zozo" (Mahebourg)
"Colorado" (Mahebourg)
Historical wreckage of the Sirius (Mahebourg)
The channel of Belle Mare
Ile Aux Cerfs
When choosing a diving centre, it is advisable to contact the Mauritius Scuba Divers Association (MSDA), organization under the aegis of the Ministry of Youth and Sports. There are about 40 accredited diving centres related to it. Most of these diving centres are found within hotel premises along the coast line, and usually offer diving sessions around the hotel area. The package includes all necessary equipment like rent of materials, maiden diving, licence exams, night diving, etc. Beginners and certified divers can thus dive safely in Mauritian waters.
It is interesting to note that the MSDA has the preservation of the marine landscape high on its agenda, and have very specific guidelines in line with it that are followed by the accredited diving centres.
The diving sites are thus controlled for the protection of the marine fauna and flora, as well as a safe and enjoyable experience for the divers.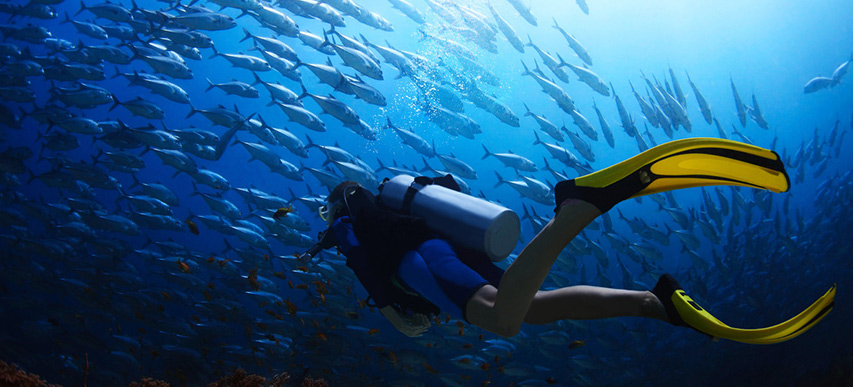 A good alternative would be to contact the Mauritius Underwater Group (MUG) which is the only non-profit club to organize diving sessions with locals and visitors everywhere around the island. However, they usually limit their activities to week-ends.
It is good to mention that a medical certificate will be required for those requiring training. This training is compulsory for the level 2, as well as for minors.
In terms of clothes, in summer a 3mm shorty is suitable. In winter however, it is advisable to wear a 5 mm wetsuit.
A decompression chamber is now available in a new ward within the Victoria hospital in Quatre-Bornes, and can accommodate for up to 6 people. Medical services, however, have fees attached to them for non-residents. Each session in the decompression chamber amounts to approx. Rs 10,000.