Horse Riding in Mauritius
Horse Riding in Mauritius
Horseback riding is definitely not new to Mauritians, nor Mauritius. The least one can say is that it is a sport deeply rooted in the traditions of the country. The fact that we find here the oldest racecourse in the southern hemisphere is proof enough of that. The passion of horse racing is shared by (almost) all Mauritians. And that, irrespective of their ethnicity or social class...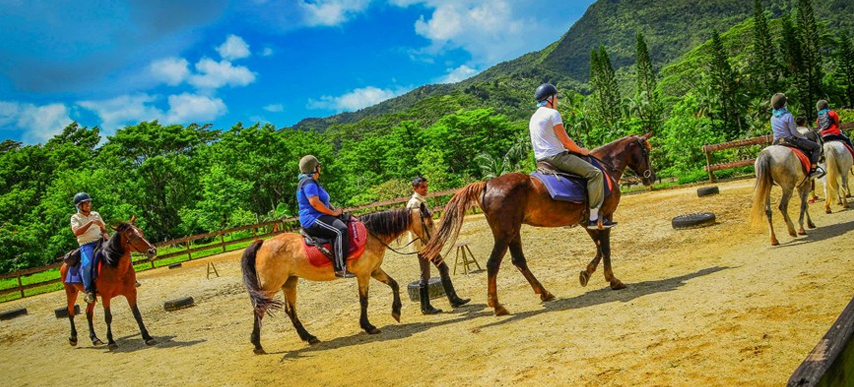 But horseback riding is not practiced only on the Champ de Mars racecourse. There are quite a few equestrian centers on the island. You can most definitely stroll down the wide (and white) sandy beaches of the island on horseback. With the lapping waves in the background, you can enjoy the sun and scenery as a bonus. During the day, the sportiest and most experienced can also take a dip in the sea with their horses! This is a unique experience that can only leave you with good memories. In the evening, enjoy the sunset as you stroll quietly, alone, with your partner or your family.
The beach is not your favorite playground? Well, you can also enjoy horse riding in lush vegetation on beautiful domains at the heart of the island. Some even extend over 2,000 hectares. You can also find equestrian centers in various localities of the island.
North
Several equestrian centers will welcome you in the north of the island. You can learn to ride and jump but also acquire dressage and vaulting techniques in quarries built on a former sugar factory or just stroll enjoying the farm animals and deer along the way.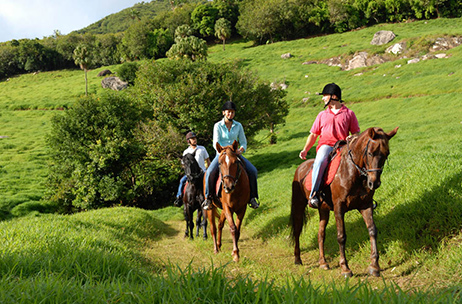 West
If you are passionate about horseback riding and want to see Mauritius from another angle, go to the South West.
There you can walk on white sandy beaches, but also ride horses at the foot of the renowned Morne pabant, emblem of the island.
Both horses and ponies are available which should make kids and adults happy.
Going more inland you can also find more traditional equestrian centers, with imported horses from South Africa and former racehorses.
You will also find a little something for you to relax or a nice restaurant to enjoy a traditional Mauritian meal.
South
In the south you can visit the Riambel equestrian center near Pomponette. In addition to rides on one of the most pristine beaches of the island, more than 2.5 kilometers long, you will also enjoy the quietness of the place due to the total lack of hotels there. This beach will be yours and only yours. Horses and ponies, beginners and more experienced riders, there is something for everyone's taste.
East
One of the largest domain of ​​the island is located on the east coast. You can ride for more or less an hour and a half in a peathtaking scenery that will make you see Mauritius in a new angle. The icing on the cake? A whole bunch of activities and services are available for those accompanying the riders!