Culture of Mauritius
Culture of Mauritius
Culture in Mauritius has been influenced by the different ancestral origins of the Mauritian people. This is reflected through the food, music, literature that have had different impacts which have emerged into a Mauritian culture.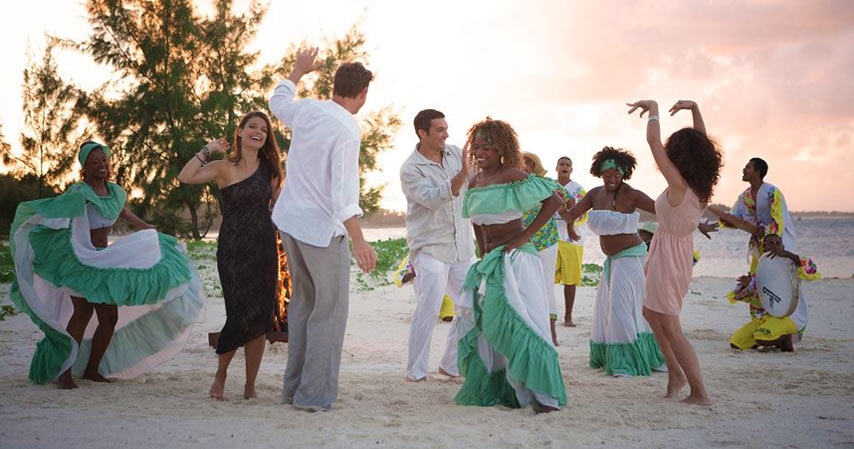 Music
Sega is the music created by locals, with its different origins. It is often mixed up with African music, but nor the music, nor the dance has its equivalent on the African continent, and it is thus believed to have different origins, in line with the Mauritian people. The traditional sega is usually played with various traditional instruments:
Ravanne: a tambourine-like local drum made with goatskin.
Triangle: A metal rod bent into a triangle shaped that is set to ring with a stick.
Maravane: A flat box filled with seeds that create a rasping sound when shaken.
It has later on evolved in a more commercial form with modern instruments like bass, drums, guitar, and this is what is usually played and sung in hotels. Some more modern versions have some pop, rap or ragamuffin strong influence. Some Bhojpuri songs are also popular among locals, Bhojpuri being a rural dialect in India.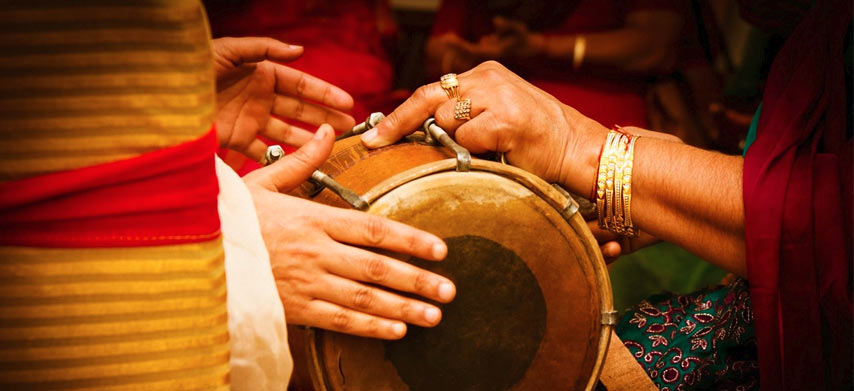 Dance
The Sega dance is very sensual, and when people dance on Sega music in hotels, they usually wear colorful clothes. Women wear ample flowered skirts that they twirl around as they dance. There are also other classical Asian dances practised in Mauritius, like Bharata Natyam, or Chinese Folk dances among others.
Religious festivals
Since the people in Mauritius have different religious beliefs, there are various religious festivals that occur at different periods of the year.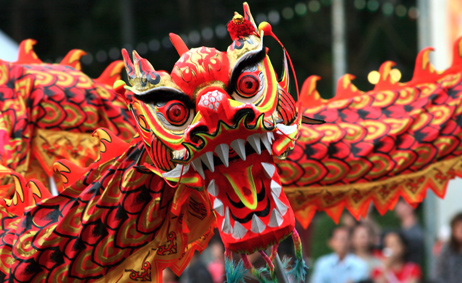 Spring Festival is the celebration of Chinese New Year in January or February, with loads of Firecrackers, and the traditional Chinese Dragon and Lion Dances.
Divali is celebrated in October, and is known as the festival of Lights.
On this day, a lot of people put a lot of traditional clay lights, or little electric lights all around the garden and all over the house.
Christmas, which has become an international festivity is celebrated in December.
However, it might be an interesting experience for tourists from the northern hemisphere to celebrate Christmas in a warm exotic summer!
Eid Ul Fitr marks the end of Ramadhan, the fasting period for muslims, and is usually celebrated with brianis, a spicy dish that is very common among the Muslim community.
Literature
Local literature has, for a long time, been monopolized by French. In the 70s, some Creole literature has started to emerge, (though the first Creole book dates back to the 19th century). In the 60s and 70s, Hindi literature, as well as other Indian languages started to emerge as well.
Changes in the Mauritian society, namely the industrial revolution, have also been felt in the Mauritian literature.
Some famous contemporary writers include Jean Marie Leclezio and Ananda Devi, who have written a lot of novels in French, as well as Lindsey Collen, who has published both in English and Creole.