Constance Hotels & Resorts
Constance Hotels and Resorts
The Constance group is one of the pioneer of luxury hospitality in the Indian Ocean, with 7 luxurious hotels in Mauritius, Madagascar, Seychelles and Maldives. Each Constance establishment is rated 5-star and operates on a concept of hospitality driven by "Passion".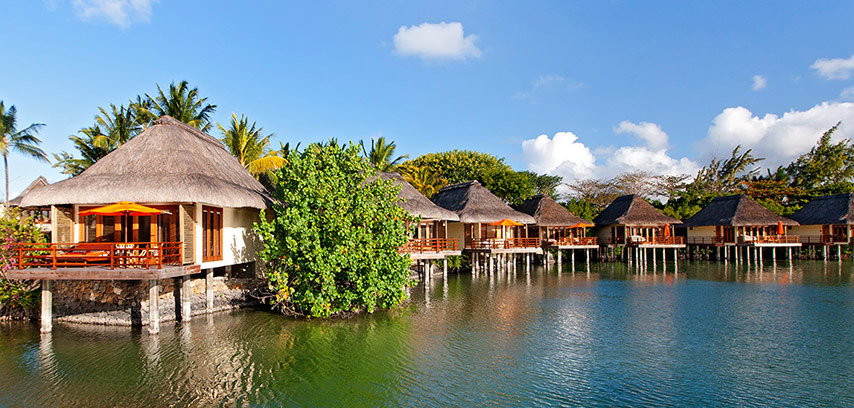 Its 2 properties: the Constance Le Prince Maurice hotel and the Constance Belle Mare Plage resort, are set on the wonderful eastern coast of the island against a backdrop of astounding oceanic views.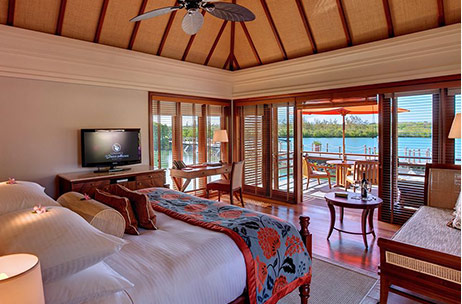 The "Constance experience" consists mainly of relaxation in a green environment; both the hotel and the resort are engaged in sustainable tourism to protect their strong regional heritage. They are Green Globe Certified and award-winning hospitality leaders, providing a range of experiences; from a luxurious glitz to a Robinson Crusoe experience, Constance offers you everything needed to revitalise yourself, away from the regular strains of life.
The group provides exclusive luxurious amenities such as the chance of dining at a floating restaurant as well as the possibility of staying in secluded suites perched on stilts. These highlight the intimate ambiance and elegance of Constance.
Constance is the only hotel group with two golf courses on the island. All Constance guests can play free of charge on Constance Belle Mare Plage's "Legend" and "Links" golf courses. They are renowned for the organisation of international golf tournaments. Numerous culinary events such as "Festival Culinaire Bernard Loiseau", that includes the participation of international chefs, are also held.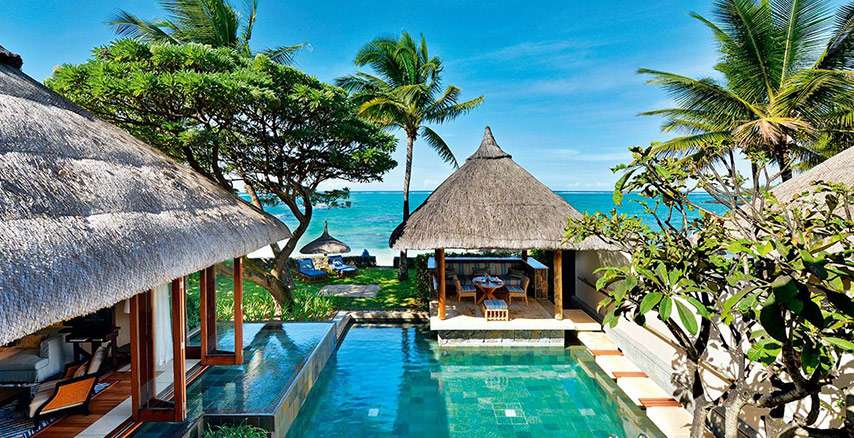 Constance Hotels and Resorts are ideal for both families and honeymooners. They are located in serene and intimate environments. Couples can opt for a stay in one of the rooms standing above water and have candlelight dinners at the floating restaurant. Guests travelling with kids don't have to worry at all as the Constance Kids clubs takes very good care of their younger guests. Customized play spaces and age-appropriate activities are proposed under the supervision of dedicated teams, ensuring the kids' safety at all times.
---
Constance Hotels in Mauritius
Constance Le Prince Maurice
Location: Route Choisy, Poste de Flacq, on the east coast
Hotel Rating: 5* Deluxe
Constance Le Prince Maurice - Hotel Overview
Constance Le Prince Maurice is an elegant 5-star hotel, named after the Dutch Prince Maurice Van Nassau. It provides you with an ultimate hotel experience with the essence of sheer luxury in an intimate atmosphere. Situated on 60 hectares of private land, the Constance Le Prince Maurice boutique-style hotel guarantees utmost privacy and serenity.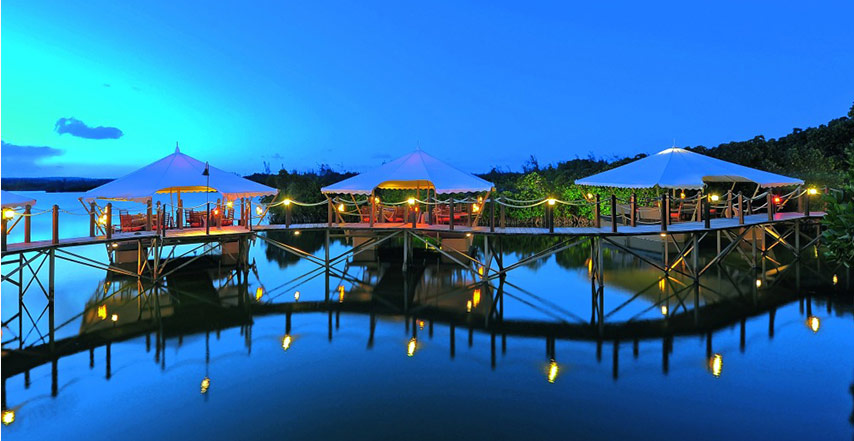 Constance Le Prince Maurice offers a number of very spacious accommodations; from junior suites of 70m2 to a Princely Villa of 350m2, the hotel proposes a diverse range of luxurious accommodations catering for everyone. Families can benefit from the 12 family suites while for the romantics, there are 5 suites on stilts overlooking the sea, ideal for guests seeking seclusion and intimacy.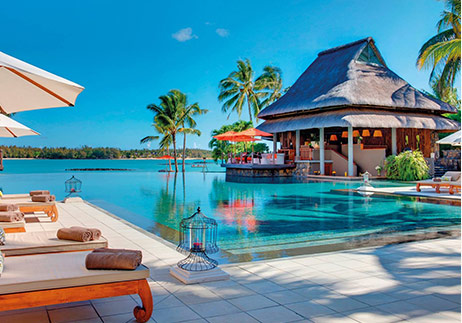 For an extremely luxurious experience, the Princely Villa is the ideal choice. The 350m2 villa is located on a secluded part of the beach with an outdoor dining area with personal villa master and a private heated pool.
At Le Prince Maurice, you have the possibility of savouring gourmet food at the excellent restaurants, proposing a variety of international dishes with a touch of local flavour in different atmospheres.
Here, you will have the exclusive opportunity of dining on the island's only floating restaurant, Le Barachois. Indulge yourself with the list of unlimited free motorized water sports and land sports such as snorkelling or tennis, and many more.
Golf enthusiasts can pamper themselves with the 2 spectacular championship golf courses Constance gives them free access to. For a quiet time, the U Spa provides a soothing experience to rejuvenate both your body and mind with an uncompromising, pampering service involving a range of Phyto-Aromatic treatments.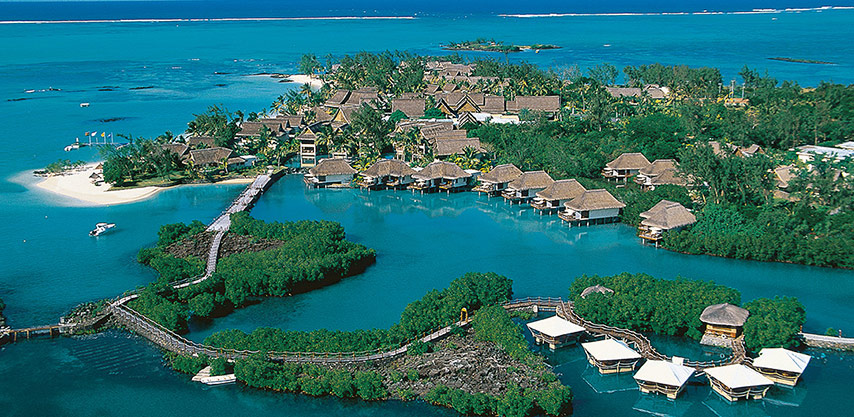 Constance Le Prince Maurice Key Highlights
89 suites and villas (1 Princely Villa with 2 junior suites/1 villa/2 heated private pools)
3 restaurants/3 bars (elegant, floating platforms - international cuisine with local touch)
Leisure facilities: tennis courts, 2 pools, water-skiing, laser boats, diving, deep sea fishing, windsurfing, kayaks
Two 18-hole golf courses - free shuttle service to and from the hotel
Kids club for children between 4-11 years old. Complimentary access - wide array of outdoor/indoor activities/arts and crafts/ secure environment
Babysitter service available
Wine cellar - capacity of 25,000 bottles of exclusive wines
U Spa by Constance and Sisley - tailor-made treatments- Sisley Paris; services of world leading podiatrist
---
Constance Belle Mare Plage
Location: Belle Mare, Poste de Flacq, on the east coast
Hotel Rating: 5*
Constance Belle Mare Plage - Hotel Overview
Constance Belle Mare Plage offers "a total resort experience" with excellent hospitality, warm cordiality and elegance. It borders two kilometres of white sandy beach, protected by a coral reef, making it secure for swimming and water sports. Its extensive range of luxurious accommodations consists of 256 tastefully decorated rooms that reflect the Constance chic and comfort.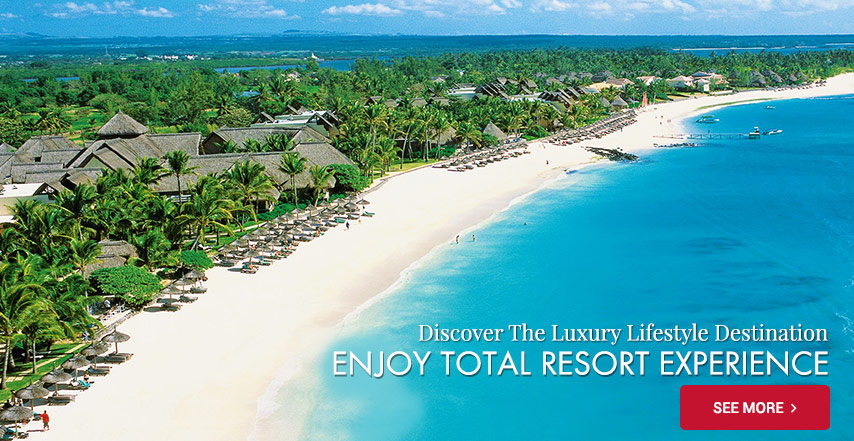 Constance Belle Mare Plage is a family-friendly resort that has a dedicated kids club with a vast variety of activities and tailor-made services where trained professionals assist and entertain the kids throughout the day. The warm, friendly team supervise all the kids closely in the open play areas and the kids' pool to ensure their maximum safety at all times.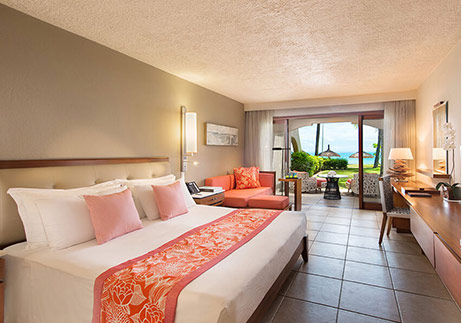 As a homage to Mauritius' spice trading history in the Indian Ocean and its rich culinary traditions, Constance has a particular "culinary spirit". It is renowned for its innovative gastronomical discovery competition - Le Festival Culinaire Bernard Loiseau.
The hotel's 7 restaurants offer guests the chance of savouring an extensive list of gastronomical flavours with an exotic blend of exotic spices. Each one of the restaurants has its own different cuisine and unique set-up, making sure guests are spoilt with dining choices and ambiences. From the simplicity of local delicacies at the Lakaze restaurant to the charm of "la haute cuisine" at the Blue Penny Cellar restaurant, you will get to sample everything.
The Constance Belle Mare Plage is a Mauritian golfer's paradise with its two 18-hole championship golf courses: Legend & Links. These splendid golf courses with coastal surroundings hold the prestigious MCB Tour Championship golf tournament, a part of the European Senior Tour. Constance guests enjoy complimentary green fees on both courses as well as numerous facilities at both club houses. For those who wish to discover the joy of golf, a free weekly golf initiation is offered by the resort.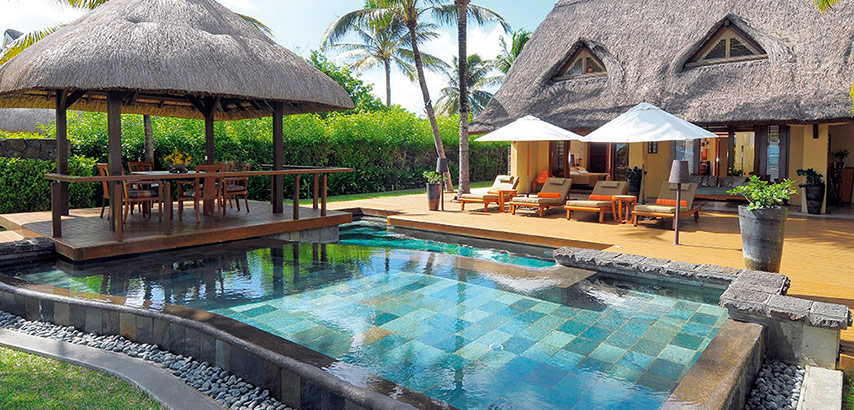 For adults' relaxation and leisure, a variety of massages and body treatments are available at the U Spa as well as a fully-equipped fitness centre, with private coaching facility and complimentary weekly group fitness sessions. The Constance Belle Mare Plage recreation counter offers a multitude of land and water activities such as catamaran trips, submarine dives, helicopter trips and tailor-made excursions on the island.
Constance Belle Mare Plage Key Highlights
256 rooms - 92 Prestige Rooms/20 villas with their own private pools/Presidential Villa (with 5 bedrooms)
7 restaurants - Haute cuisine/international innovative cuisines/ live-cooking stations
6 bars - 1 golf club house bar, 1 with floating lounges on the pool
Conference room fully equipped with latest technology and amenities
Two 18-hole championship golf courses the "Legend" and the "Links" with unlimited green fees
4 swimming pools
Kids club for children between 4-11 years old. Complimentary access - wide array of outdoor/indoor activities/arts and crafts/ secure environment - own kids' pool
Babysitter service available
Extensive list of complimentary activities - catamaran trips, helicopter trips, tailor-made excursions, etc
Beach service available for snacks and beverages
U Spa by Constance - Deluxe Range/Classic Range treatments - Valmont and Ymalia
Helicopter airport transfers available