Hotel Villa Resorts in Mauritius
Mauritius Hotels with Villas (Villa Resorts)
Experience the authentic Mauritian charm with its unique accommodation (lavishly furnished Villas), refined cuisine and dedicated service in a breathtaking natural environment. Immerse yourself in complete luxury and privacy with the exclusive concept of Hotel Villa Resorts.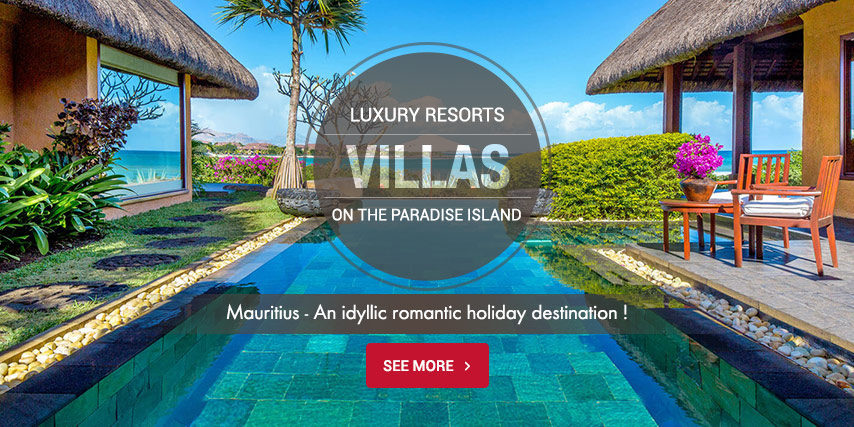 Today, many hotel brands seek advantages in featuring luxurious villas that mirror the concept of a complete private accommodation endowed with comfort and services of a high-class hotel. This concept attracts more VIP clients who want to spend some private moments with their family and friends in total intimacy with all the high-end amenities and attentive service of a 5 star Hotel. The more private and intimate setting is attractive to travelers.
The Hotel Villa Resorts are categorised into 3 different groups.
Pure Villa Resorts - Hotels offering only villa accommodation for a luxurious and a more intimate stay with personalized services and great amenities.
Hotel with Villas & Suites - Hotels offering a combination of both rooms and villa accommodation, for each guest to have the flexibility of choosing their preferred style of accommodation while benefiting all activities & facilities offered in hotels.
Private Luxury Villas with Hotel Services - Stay in a property free-standing villa fitted with all the necessary comfort and grant yourself the privilege of living in a sunny secured spot featuring magnificent setting and which are away from the noises of crowded hotels and beaches.
The list below feature a number of luxury Hotels Villa Resorts that offer Villas accommodation along with all the key highlights to choose the right offer for you.
Pure Villa Resorts in Mauritius
Four Seasons Mauritius - 5*
Indulge in the modern and rustic luxurious designed of the Four Seasons Resort Mauritius. You will discover a secluded and intimate address where couples and families can enjoy the legendary service for which it is renowned.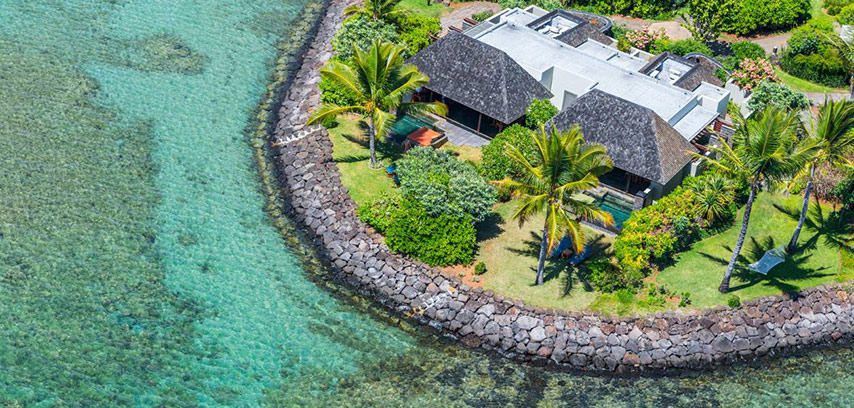 Four Seasons Resort Mauritius is located at the heart of the east coast of the island where the key notes are comfort and elegance. Open the door to a luxury resort villa filled with sunlight, natural wood furnishings and sublime views of mountains, mangroves and the azure-coloured beachfronts. It is a place of quiet seclusion to rest, do business or relax after a long day of sightseeing, shopping and sports. The staff member anticipates what you need, then provide it, leaving you free to savour each moment of your time.
Be also well-prepared for an exclusive culinary journey at Four Seasons Resort Mauritius at Anahita. The resort & Villas is proud to employ a number of premiere chefs, each specializing in a different type of cuisine - Italian, Indian, Chinese and Mauritian - for restaurant menus as diverse as the island itself.
136 Villas with private pool from 70 m2 to 780 m2 filled with sunlight, natural wood furnishings and sublime views of mountains, mangroves and the azure-coloured beachfronts.
4 Restaurants and 1 Bar
Live Music Entertainment
Hobbit Village Kids' Club - Kids for All Seasons
Spa Four Seasons with 12 Spa treatment rooms
Fitness Facilities: 16 cardio and fitness machines
3 Pools & 1 Children's Pool (heated pool available)
18 hole, par 72 championship golf course
Land & Water Sports
Services: Boutiques, Laundry and dry cleaning, butler service, Baby-sitting services (with 24-hours notice)
Meetings & Events Program
Weddings Events
---
Maradiva Villas Resort & Spa - 5*
An unparallelled experience that you can tailor entirely to your dreams.
Discover the Maradiva Villas Resort & Spa, the only one of its kind on the island. It is an exclusive haven of intimacy and luxury nestled amidst 27 acres of exotic gardens.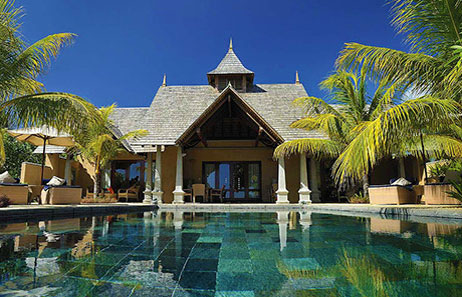 This luxury five-star resort will delight guests with the quiet opulence of its private villas.
Drawing on its Indian heritage, the Maradiva experience, which includes an award-winning Holistic Spa, haute cuisine and a private pool in the grounds of every villa, is synonymous to understated elegance and impeccable service.
Indulge in a blissful serenity with discreet elegance, ultimate privacy and personalized Mauritian experience.
Being a rest, relaxation and rejuvenation haven, Maradiva is the ideal exclusive romantic getaway.
Guests are cocooned in the intimate harmony of their own air-conditioned private suite villas.
The resort comprises sixty-five of them, all cosily nestled in nature along the coastline - some with an ocean view, others with a lush garden view, but all with their own private pool.
65 Villas from 163 m2 to 345 m2 which draw inspiration from the charming local architecture - each with a private pool adjoining a tranquil living-dining area
Winner of Traveler's Choice by TripAdvisor
2 Restaurants & 1 Bar
Live Indian Instrumental music.
In-Villa Dining: 'Around the Clock' service is offered in the villa making the guests experience the same cuisine and service in the restaurants but with privacy.
Pool and Beach facilities: A team of dedicated beach attendants are at your service to cater to your refreshment needs.
Maradiva Spa - 2 Couples Treatment Rooms, 2 Single Treatment Rooms & 2 Ayurveda Treatment Rooms.
Steam, Sauna, Jacuzzi, Chill pool & Outdoor Shower
Fitness Centre & Yoga Pavilion
Land & Water Sports
The Mini Club: available for children from children aged from 4 to 12 years old.
Services: Boutiques, Laundry and dry cleaning, Infirmary, 24-hour butler service, Baby-sitting services (with 24-hours notice)
Meetings & Events - A modern conference room
---
Hotels with Villas & Suites
Shanti Maurice, A Nira Resort - 5* PLUS
Set on the unspoilt south of Mauritius, discover Shanti Maurice, a Nira Resort with 44 suites and 17 villas offering amazing natural setting spread across a 36-acre of tropical gardens. All ocean-facing, the suites and villas are among the most generously proportioned in Mauritius and they are created from natural materials to blend with the tropical landscape. All 17 villas - including the Presidential villa - are located on the beachfront overlooking the Indian Ocean, and have a private pool, outdoor rain shower and dining pavilion.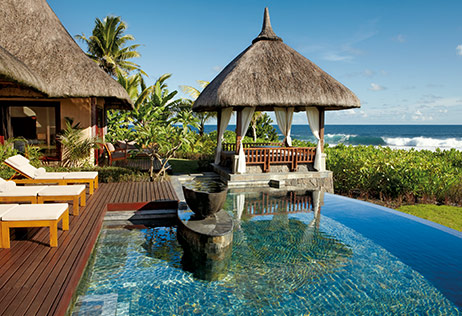 Shanti Maurice- A Nira Resort invites for a majestic escape with sights, sounds and flavours that characterizes a Mauritian culture influenced by India, Africa, France and China.
Executive Chef Willibald Reinbacher believes that ingredients should be fresh and local, and that the best way to understand a destination and its culture is through its cuisine.
This philosophy is reflected throughout Shanti Maurice, from the resort's extensive herb garden and relationships with local farmersand fishermen, to the island's boutique distillery offering its oldest and finest casks for the resort's rum.
It will be your perfect luxurious retreat nestled between the lush mountains, exotic gardens and pristine white sands of the south region.
The hotel's philosophy is to make you encounter and experience the authentic Mauritian culture along with stylish accommodation, sublime spa experiences and innovative cuisine.
17 Spacious beachfront Villas with private pool featured a contemporary design yet timeless blend of Mauritian and African culture and style. (From 208 m2 to 800 m2 villas)
4 Restaurants & 2 Bars
Picnics hampers can be taken to one of the areas of staggering natural beauty that surround the resort.
The Nira Spa - World Class Spa
Sauna & Hammam.
Fitness, Gym & yoga
Children & Teens Programmes: Les Petits Dodo Kids Club
Golf & Tennis.
Lands & Water Sports
Services: Babysitting (additional fee), Babycot, Boutique, Library, Excursions (additional fee)
Weddings and honeymoons
---
The Oberoi, Mauritius - 5* Plus
The Oberoi, Mauritius embraced by twenty acres of lush, sub-tropical garden, enjoys an unrivalled position on the shores of Turtle Bay; a natural marine park with a vibrant coral reef found in Balaclava, Mauritius. Unlike any of the other luxury hotels in Mauritius, The Oberoi, Mauritius has access to six hundred metres of combed, white sand beaches, which are blessed with views of magnificent sunsets, every day.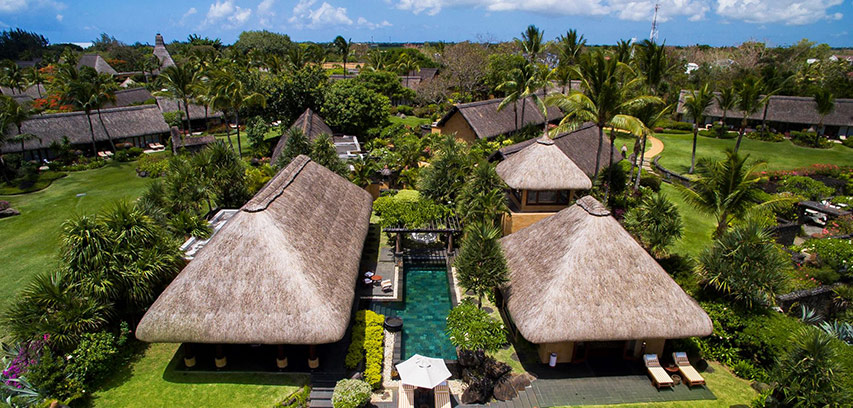 The pavilions and villas are luxurious with refined rustic interior decorations. Sheltered by charming thatched roofs, they afford magnificent views across the Indian Ocean or hotel's lush, sub-tropical garden.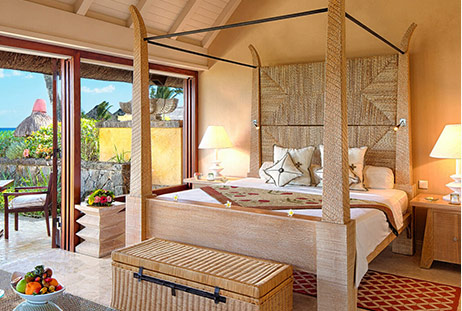 Guests who opt for a villa with a private pool can bathe in uninterrupted luxury.
Villas with private gardens afford a wonderful setting for in-room dining served by a personal butler, while our luxury pavilions offering breathtaking ocean views.
All accommodations feature rustic oak and natural cane furniture, wall-to-wall windows and marble bathrooms which look out onto private, walled gardens.
Equipped with high speed WiFi access, an iPod dock, satellite television, an electronic safe and an espresso coffee maker, they harmonise nature, comfort and technology.
18 Pool Villas from 70 m2 to 650 m2 which are sheltered by charming thatched roofs and afforded magnificent views across the Indian Ocean or hotel's lush, sub-tropical garden.
2 Restaurants & 1 Bars
The Gunpowder Room: The wine cellar is a recognised national monument that dates back to 19th century, French colonial times. It can seat up to six couples for an intimate dining experience, and also hosts local rum and wine tasting sessions.
2 infinity pools - one reserved exclusively for adults.
The Oberoi Spa - Individual spa suites with private Jacuzzis
Steam bath & Jacuzzi.
Gym & Fitness centre
The Hub Kids Club: The supervised kids club offers a range of fun games and activities for children between the ages of 4 to 12 years.
Land & Water sports
Wine tasting & Rum tasting.
Services: Library of dvds and books, Concierge services, Room service, Babysitting facilities, Beauty salon, Boutique, Business Centre, Car Parking (free), Dry cleaning, Foreign Exchange, Laundry, Luggage store room, Medical service (on call), Pressing.
Meetings & Conferences
Weddings Events
---
Constance, Le Prince Maurice - 5* Plus
Exclusive, elegant, unique, top-flight fine dining. Here are some adjectives to describe the magic of this luxury hotel, Constance Le Prince Maurice, member of the elite circle of the "Leading Hotels of The World". Enjoy a unique experience in Mauritius in the resort's magnificent villas and suites built on stilts.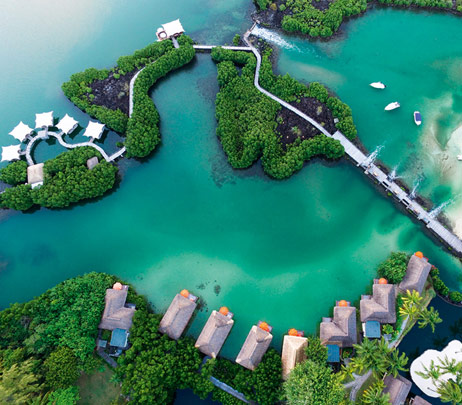 Lounge in the intimate and secluded setting, pamper yourself at the U Spa by Constance and feast on exceptional cuisine created by the chefs from around the world. Families can choose the beach villas and complimentary Constance kids club, while golf pros can retreat to the two 18-hole championship golf courses.
Designed by architectural mastermind Jean Marc Eynaud and designer David Edwards, Constance Le Prince Maurice is where style, space and architectural designs create the perfect hotel lifestyle. Peaceful by day and picturesque at night, the hotel is amidst lush tropical greenery where the natural reserves add to the décor a sense of tranquillity.
The luxurious Villas being inspired by Feng Shui principles to create the perfect sense of harmony, all beds stand high above floor level to help the circulation of Qi. Beautifully decorated, each villa offers a living room with dining area, luxury bathroom with whirlpool bathtub, romantic outdoor plunge bath, and guest shower/WC.
9 villas (130 m2 - 350 m2) offer direct beach access and a heated private pool. Three villas of 130 m2 (without private pool) are on stilts overlooking the natural fish reserve
3 Restaurants & 4 Bars
Wine Cellar: A new wine cellar adjoining the Archipel restaurant with an area of 175m2 dedicated to exclusive wines with a capacity of 25,000 bottles from around the world.
U Spa by Constance: 5 single treatment rooms, 2 double treatment rooms, Heated pool with sun loungers, Sauna & Steam room, Cold plunge pool.
Health and Fitness Centre
Meetings & Events
Constance Kids Club
Golf - Legend Golf Course, The Links Golf Course & Golf Academy
Land & Water sports
Services: Shopping Facilities, Laundry and dry-cleaning, Doctor on call, Excursions and car rental desks, Limousine and helicopter transfers available on request (helipad on site), Library.
---
Anahita Golf And Spa Resort - 5*
Anahita The Resort & Villa, a new lifestyle resort...
Come for pleasure, romance and relaxation, the Anahita The Resort & Villas offer ideal setting for your luxury holiday in Mauritius. Featuring up five bedrooms elegant villas and located along the golf course between holes No. 1 & 9 in a 213 hectares tropical garden, The Anahita Villa offer the ultimate tropical luxury!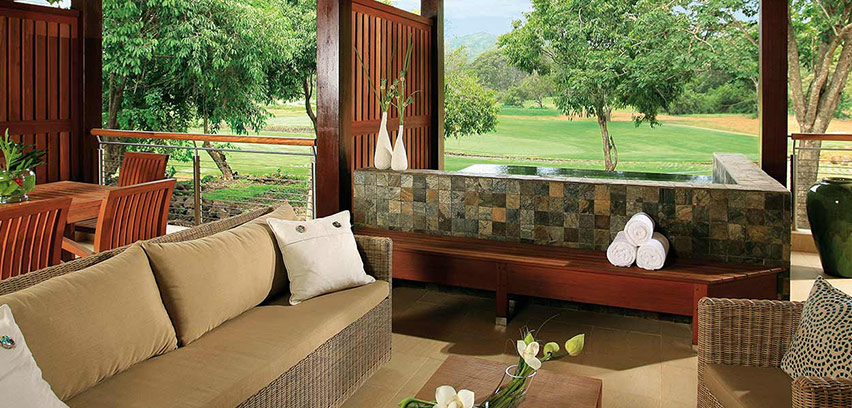 The rooms have been exquisitely conceived to provide a modern and enhanced living experience in a light and fresh setting. Inspired by our island beauties with coral and floral patterns, their earthy neutral decoration depicts the essence of tropical living. The private pool villas are elegantly decorated, the cuisine is exquisite, the beach is divine and the Mauritian hospitality is absolutely charming.
With these upcoming villas, Anahita The Resort will provide the perfect retreat for those seeking a balance between an indulgent Mauritian art of living and more vibrant experiences.
28 luxury pool villas of three, four and five bedrooms situated on the Golf course and offering garden, golf and sea view. (From room of 190 m2 to 550 m2)
6 Restaurants and 1 Bars
In-suite dining & Dial-A-Chef (Private Chef)
Coffee Shop & Candy Shop
2 infinity edge swimming pool
Wellness Center: 8 single treatment rooms & 1 double treatment room with own garden area, interior and exterior showers.
steam room and Jacuzzi.
Fitness Center
Anahita Golf Course (Ernie Els Design), Ile Aux Cerfs Golf Course (Bernhard Langer Design) & Anahita Golf Academy
Anahita Leisure Parks: Domaine de L'étoile, Adventure Park at Ile aux Cerfs, Vallée de Ferney.
OurSpace Kids Club & Escape Teens Club
3 Tennis courts
Boathouse & PADI Centre
Anahita Exclusive Beach at Ile Aux Cerfs
Weddings Events
Meeting & Function room
Groups & incentives
Services: Shops, Daily cleaning, In-house laundry, Grocery services, Multilingual concierge, 24 h Room Service, Unpacking service (if requested, Complimentary boat shuttle to Ile aux Cerfs
---
Trou Aux Biches Beachcomber Golf Resort & Spa - 5*
When you choose Trou aux Biches Resort & Spa for your holiday in Mauritius, you can expect perfection from start to finish. Set in a palm-shaded grove of the north-west coast, Trou aux Biches Resort & Spa offers guests true Mauritian hospitality, warmth, friendliness and the highest standards of service.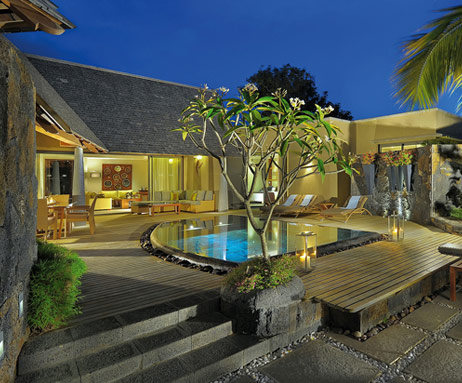 Stretching along a pure white sandy beach, Trou aux Biches Resort & Spa is a tranquil tropical haven with an uncompromising commitment to excellence.
Carefully spread out in the heart of tropical gardens, the 27 Villas with two or three bedrooms are an invitation to discover a world dedicated to tropical elegance. Exuding privacy, they convey a special atmosphere reminiscent of traditional Mauritian beach houses.
Indulge in an exclusive dining experience with a choice of six restaurants within one single objective: the highest quality dining in Mauritius. The restaurants have been designed to make the most of the pleasant weather which prevails on the North West coast.
The focus is on specialties sourced around the globe and brought to you by world-class Chefs. Cuisine also means variety, offering guests fine dining with different food styles and changing menus ensuring they are spoilt for choice every single day.
27 Spacious Pool Villas of 246 m2 and 290 m2 which features 2 or 3 Bedrooms
6 Restaurants & 1 Bars
Spa by Clarins: Covering an impressive 2897 m2 with 17 massage cabins (including 6 double cabins and 2 cabins dedicated to shiatsu/Thai massages), 2 saunas & 2 hammams, 1 balneotherapy room & 2 Vichy shower rooms, Pool
Pool (heated pool available)
Land & Water Activities
Fitness Centre - 3 rooms dedicated to fitness: body-building & cardio, spinning & aerobics, 2 free hammams
Kids & Teens Club
Services: Boutiques, Duty-free jewellery, Hairdresser and beauty parlour, Excursions, Car hire, Business Centre 24/24h, Limousine service, Baby-sitting service (24-hour notice required)
---
Lux* Belle Mare Villas - 5* Plus
Welcome to LUX* Belle Mare Villas - The 12 luxury Villas feature stunning sea views in a secluded island setting. Wake up to the sound of the warm Indian Ocean lapping against the shore after a blissful night's sleep in your handcrafted LUX* Sleep Tight bed and beautifully appointed villa.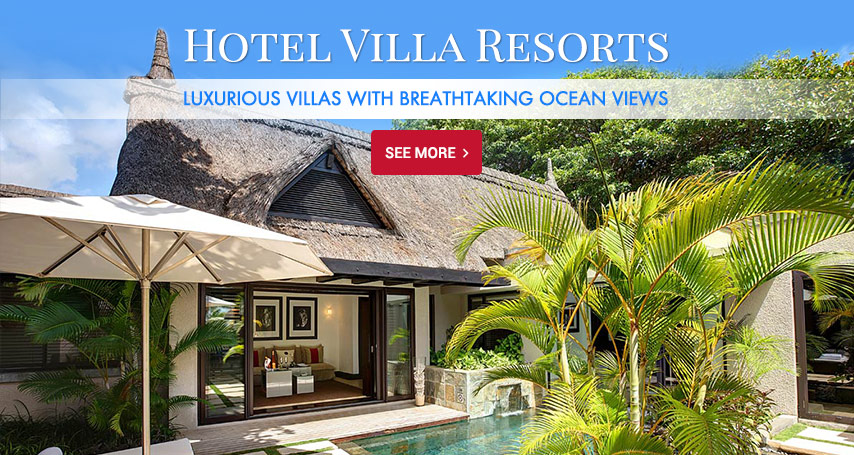 Freshly re-designed by celebrity designer Kelly HOPPEN, the elegant villa of Lux* Belle Mare will be your tropical sanctuary during your Mauritian break. Intimate and indulgent, the Villas nestle in a sheltered bay overlooking the breath-taking beauty of the azure lagoon. They will greet you with a private heated pool and garden with refreshing outdoor shower, as well as nothing-too-much-trouble butler service. If you're seeking elegance and privacy, with all the pampering of a five star hotel, come and stay in the Villas of Lux* Belle Mare for the vacation of a lifetime.
So open your eyes, stretch and relax. It's going to be another wonderful day in paradise.
Intimate and indulgent, the 12 Pool Villas (from 160 m2 to 255 m2) are nestled in a sheltered bay overlooking the breath-taking beauty of the azure lagoon.
4 Restaurants & 2 Bars
Café LUX*: Enjoy our signature coffees roasted in house.
The Tea House: Experience the flavoursome and authentic tea ceremony with our international tea leaves selection.
LUX* Me Spa - 12 treatment cabins including, Sauna & steam room, Cold plunge pool, Heated swimming pool, Jacuzzi.
Fitness Center
Land and water sports
STUDIO 17 Activities: IMAC and X-box games, DJ station, excursions, kite competition, skimboard, volleyball and football on the beach, beach BBQs.
Toddlers & babies Facilities
Other services: Hair Salon, PLAY, 24h room service (charges apply), Concierge desk & Celebration Corner, Car rental, LUX* Business, Infirmary, Laundry service, Babysitting service (24h notice, charges apply), Private dining, Beach & pool service, Beach towels service, Duty free jewellery, Hotel boutiques, Limousine transfer (Volkswagen Touareg).
Meetings & Events
Weddings Events
---
Shangri - La's Le Touessrok Resort & Spa Mauritius - 5* PLUS
Step in total luxury and refined decorations at Shangri-La's Le Touessrok Resort & Spa and experience the perfect combination of Eastern and Western elements. After an extensive six-month renovation, the hotel has reopened on 1 November 2015. Drawing inspiration from Le Touessrok's rich history and the chic style found throughout Mauritius, the hotel welcomes guests with Shangri-La's renowned Asian hospitality.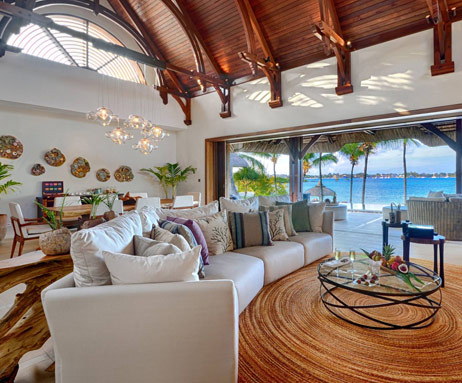 Nestled along the untouched eastern coast of the verdant island nation, Trou d'Eau Douce Bay's tranquil, uncrowded world-class beaches are found.
Here, the resort offers an unrivalled standard of privacy and personalisation in an atmosphere of refined island luxury.
The three exclusive villas of Shangri-La's Le Touessrok, provide guests with a personalisland sanctuary.
Having undergone meticulous and thorough redesign and renovation work, the lodging sets the standard for elegant island chic with that special Shangri-La touch.
Rich and tasteful furnishings have been carefully curated to complement the surrounding natural beauty and local culture.
Thus, come and discover a unique place where traditions intertwine with holistic relaxation treatments and delicious cuisine.
Whether you are looking for intimacy as a couple or fun for your family, stunning holidays are waiting for you.
3 Beach Villas is an exclusive intimate place for guests to retreat in privacy. Each villa offer 423 sqm
6 Restaurants and 1 Bars
2 swimming pools (heated pool available).
CHI, The Spa - 8 treatment rooms
Fitness center
Meetings & Events
Mini T-Club
Land & Water Sports.
Ile aux Cerfs Golf: This 18-hole championship golf course was designed by Bernhard Langer and is separated from the mainland resort by a shimmering turquoise lagoon.
Services: Hospitality Lounge, Library, Parking Facilities, Baby Sitting / Child Care, 24-hour Room Service, Foreign Exchange Counter, House Doctor on Call, In-room Spa Services, IT Butler, Laundry & Valet Service, Postal / Courier Service, Car Rental Service, Helicopter Transport Service to/from the Airport, Taxi & Limousine Service, Beauty Salon, Gift Shop, Shopping Arcade
---
Private Luxury Villas with Hotel Services
Heritage The Villas - 5*
Surrender your senses to the beauty of Bel Ombre at one of Mauritius' most exquisite pool villas: brilliant blue sky, sparkling pool water, verdant landscapes and gentle ocean breezes. Heritage The Villas invites you to indulge in the luxury of total independence and privacy in a villa while enjoying the same services as a five-star hotel.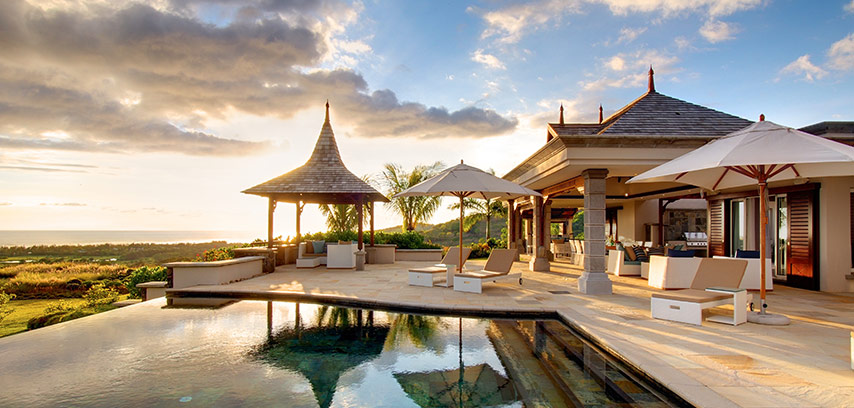 The resort gives you a taste of refined luxury living with accommodation boasting a spectacular panoramic view in the unspoilt part of the southern region of Mauritius. Enjoy an amazing championship golf course and unlimited access to the world-class facilities of the Domaine de Bel Ombre - two first class resorts, a beach club, an 18th century colonial mansion and a lush nature reserve in the south of Mauritius.
The plantation-style villas offer unique accommodation in an outstanding location where simplicity, gentleness and discretion are the watchwords. They are an invitation to experience the traditional Mauritian veranda lifestyle. Each villa is furnished with a personal golf cart, an infinity pool, large veranda, air-conditioned bedrooms, wifi and satellite TV, daily cleaning and 24-hour concierge service.
Certificate of Excellence & Traveler's Choice by TripAdvisor
20 Spacious Pool Villas from 190 m2 to 350-450 m2 with different number of bedrooms
Spacious terrace area with dining-room in every villas & infinity pool and gazebo with stunning views over the golf course and ocean
Large choice of In Villa services
Access to all facilities of Heritage Resorts - 12 restaurants and 8 bars with a 20% discount, access to the C Beach Club, 2 spa villages, 5 swimming pools, a nature reserve, water and land activities, fitness centre, Dedicated beach club, Timomo Kids Club
Heritage Golf Club (located next to the villas)
Services: Daily housekeeping, Laundry and dry cleaning, Infirmary, private chef, grocery delivery service, 24-hour butler service, Baby-sitting packages (with 24-hours notice)
---
Club Med, The Albion Villas - 5*
Situated amid flowering hibiscus overlooking the sea or tropical gardens in the heart of the west coast of Mauritius, The Albion Villas is the ideal choice for an intimate and luxurious stay with family or friends. The Villas lie in a unique setting between majestic mountains, tropical vegetation and a shore that's washed by crystal waters and protected by a coral reef.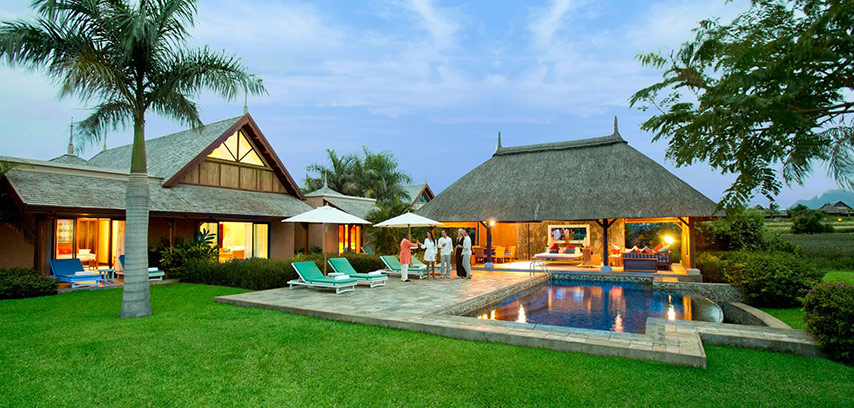 The idyllic natural setting is enhanced by the sublime decor designed by Marc Hertrich and Nicolas Adnet, and the Resort's top-end comfort. The establishment boasts a large choice of elegant and welcoming villas, meticulously designed to the highest standards in terms of comfort and equipment to suit the needs of every guests. The Mauritian veranda (40 sqm / 430 sq ft) in the tree-lined garden of each villa provides a wonderful outdoor living area, and it has its own private overflow pool where you can enjoy peace and tranquility.
With a private butler to take care of everyday tasks and the option of your personal chef in the Villa, you may choose to eat in your own dining room or on the Mauritian veranda, after champagne round your private pool. However the Plantation d'Albion Club Med is just next door, with a vast range of sports, several restaurants and a Cinq Mondes Spa, children's clubs and the great friendly spirit Club Med is renowned for.
Luxurious private pool villa featuring 2, 3 or 4 bedrooms (from 80 m2 to 155 m2 villas)
2 Restaurants & 3 Bars
Villa Catering & Butler Services (at extra cost)
Mini Club Med at la Plantation d'Albion - Petit Club Med, Mini Club Med & Juniors' Club Med
Spa Cinq Mondes - Duo treatment rooms for tandem treatments, Individual and duo treatment rooms, PalapasTurkish bath (steam room),
Land & Water Sports
Sports School: Fitness School, Golf School, Tennis School, Sailing School