Luxury Hotels in Mauritius
The Best Luxury Hotels in Mauritius
Nothing is more delightful than spending a luxurious retreat in an idyllic sun-soaked holiday destination like Mauritius. Reputed for its world class hotels and resorts, Mauritius is more than just its white sandy beaches, blue lagoon, and tropical weather. Here, you are likely to experience hospitality at its best with a hint of the authentic Mauritian Creole culture delicately blended with African and Asian ambiences.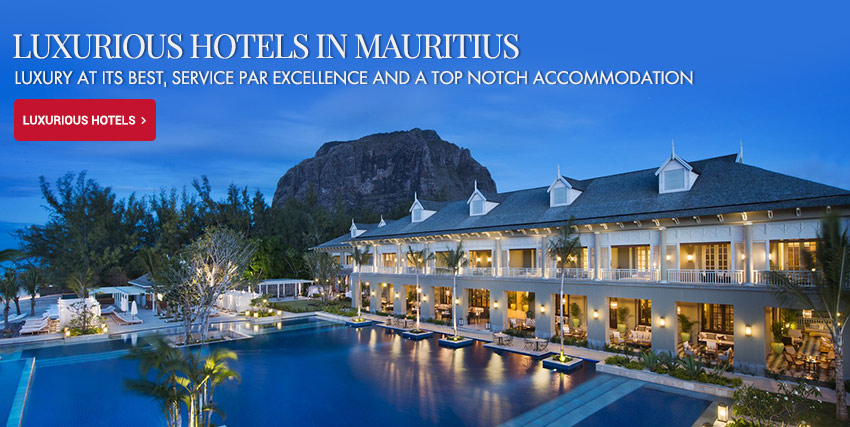 And when it comes to choose a luxurious hotel in Mauritius, then important points such as hotel service, infrastructure, décor, location and hospitality are key points. Ideal for the most discerning travellers and holiday makers, the aim of the luxurious hotels in Mauritius is to offer you luxury at its best, service par excellence and a top notch accommodation where you can settle yourself so comfortably and naturally.
With a wide range of hotels available across the island it certainly becomes challenging to choose. But you don't have to look for more with our list luxurious hotels which you can consider below:
---
Mauritius' Best Luxury Hotels:
Four Seasons Resort Mauritius (at Anahita)
The world class Four Seasons Resort Mauritius is one the top classy holiday destinations located in the eastern coast of Mauritius. This blissful sanctuary of serenity and rejuvenation encompasses majestic mountains, verdant exotic gardens with mangroves, and the glistering water of the Indian Ocean-all settling in a perfect harmony.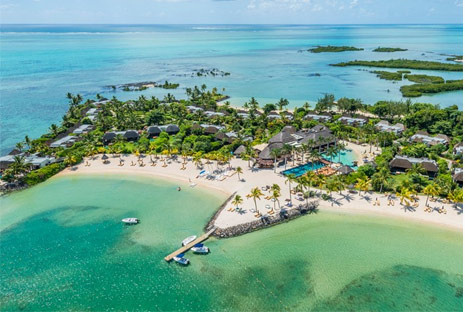 Resort is beautifully manicured with its stunning and sophisticated 136 villas and residences lavishly designed to meet the expectations to the most discerning guests. Sip a luxurious lifestyle with the stunning villas, alongside their private pools which offer incredible nature views. These well-appointed accommodations are filled with natural lights, and decorated by contemporary wood and stone accents.
Besides, the high standard accommodation the resort is renowned for its Golf Club nestles in a tropical sanctuary with a backdrop of the awe-inspiring mountain ranges. The Ernie Els-Designed championship golf course consists of 18 holes and is also considered as one of the leading courses in the Indian Ocean. Enjoy complimentary golf and daily beginner's golfing initiation with a pro during your stay.
Cherish a relaxing moment with the award winning Spa in a tranquil environment. Carefully blending the African roots of Mauritius with the learned traditions of Asia, the Spa fuses rich cultural elements with modern-day techniques, to ensure a holistic wellbeing experience of the physical, emotional and spiritual bodies.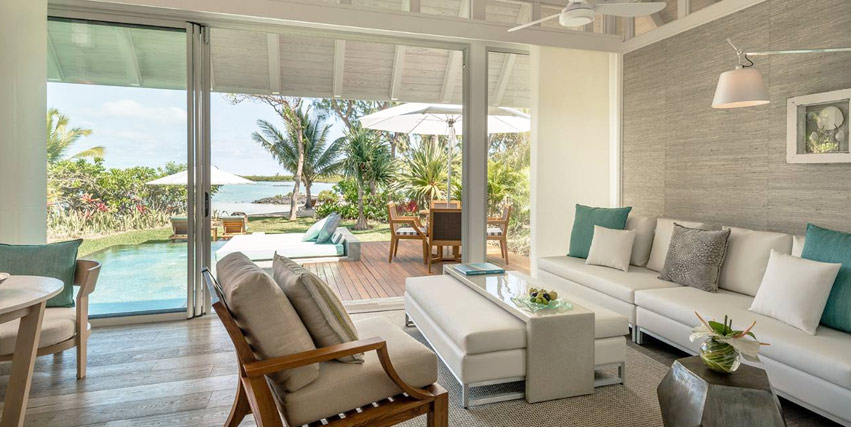 Additionally, the resort offers you exquisite culinary experiences with its eclectic range of restaurants from the finest Mauritian and pan-Asian delicacies to fresh seafood, classic Italian dishes and a contemporary grill.
136 Villas and Residences
4 Pools
2 Tennis Courts
Ernie Els-Designed Golf Course
24 hours Business Services
1 Fitness Centre
12 Signature Treatment Rooms
4 Restaurants
1 Bar Lounge
---
Royal Palm Hotel (beachcomber)
The Royal Palm is a luxurious 5 star hotel par excellence situated at the vibrating tourist village in Grand Bay. This fine hotel promises you a tranquil tropical haven and a warm Mauritian hospitality for an amazing vacation in a luxurious setting.
Royal Palm's recent upgrade involved refurbishing the common areas and suites to create the ultimate luxury experience. All was done, however to preserve the hotel's unique atmosphere, natural charm and timeless elegance. Bathed in soft lighting, the rooms combine delicate and bold hues, fine fabrics, finishes in wood and marble, along with custom-made wooden furniture crafted by local artisans.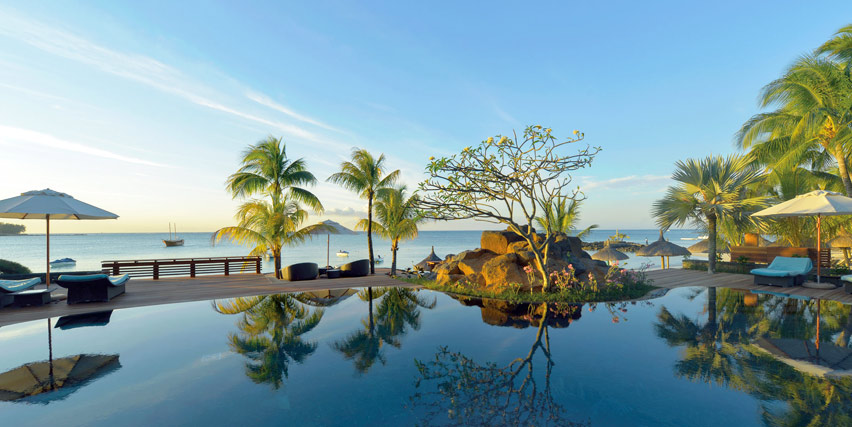 You are offered an array of high standard sea facing suites with terrace where you can appreciate gorgeous views. Amenities include: air-conditioning, walk-in-wardrobe, individual safe, complimentary wifi access, spacious bathroom with bath tub, and with other facilities to make your stay comfortable.
With Royal Palm, you are always entertained by a long list of interesting recreational activities like the windsurfing, Hobbie cat, pedalo, canoe, glass bottom boat, snorkelling, and speed boat. Other facilities include, fitness centre along with a myriad of spa treatments.
Royal Palm is also known for its award-winning cuisine. Three restaurants, presided over by French Chef Michel de Matteis, who obtained the tile of "Best Craftsman of France', invites you to a tantalizing culinary experience. You can choose from the casual elegance of Le Bar Plage, the spacious terrace of La Goélette or the intimate setting of the new Italian restaurant - La Brezza, any choice you make will be just perfect.
69 Suites facing sea
1 Spectacular Royal Suite with Private Pool
18 Massage & Treatment Rooms
3 Heated Pools
3 Restaurants
1 Bar
3 Tennis Courts
---
Shangri-la's Le Touessrok Resort And Spa
The newly refurbished Shangri-La's Le Touessrok Resort and Spa is an upscale private hideaway strung along the white-sand beach and turquoise shoreline in the eastern coast of Mauritius.
This 5 Star deluxe resort delivers tropical elegance in a blissful setting adorned with palm fringed paths which lead to tropical gardens complimenting with the Mediterranean style villas dotted around the beaches - an ideal destination for luxuriously fun holiday for family and friends where you can indulge in thrilling water and land activities.
Just off Le Touessrok's pristine shore, you will find two paradisiacal islands - Ilot Mangenie which is open exclusively to Shangri-La's guests and features a trendy beach club and on - island butlers - and Ile aux Cerfs, which holds a spectacular 18-hole championship golf course that was designed by the famous pro-golfer Bernhard Langer.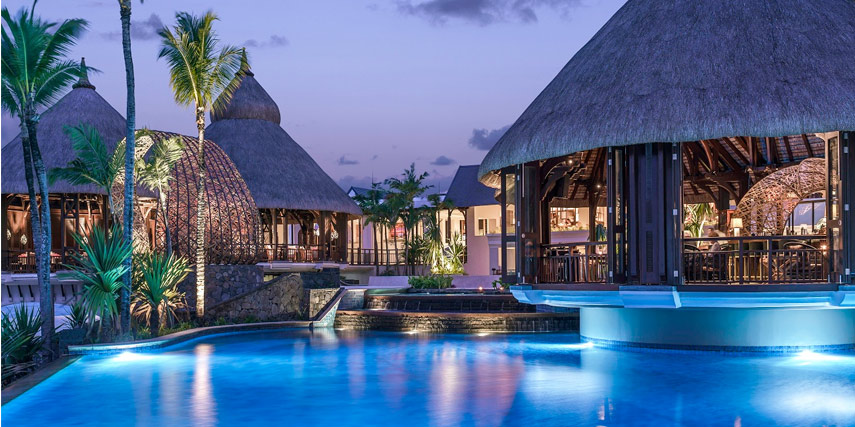 The ocean facing 200 renovated rooms and suites are categorised into three wings notably: Coral, Hibiscus, and Frangipani. Accommodation has meticulously been designed with raw-edged tropical mango wood, marble floors and custom made furniture and artworks. They come with either a private balcony or terrace where you can comfortably relax and enjoy the awe-inspiring views.
With its 5 restaurants, you are sure to enjoy sophisticated menu having a panoply of cuisine such as the Mediterranean, Japanese, and Indian. You can also sip a chill cocktail at the Sega bar which is perfect for revellers with live music, themed nights and performances by local and international DJs - complements its bohemian beach lounge with fireplaces and daybeds.
Visit CHI Spa-for a blissful moment of relaxation where guest can custom their massage oils.
200 Rooms & Suites
2 Swimming Pools
1 Lounge
8 Treatment Rooms
4 Restaurants
1 Bar
1 Coffee Shop
1 Beach lounge
Complimentary Green Fees
---
Maradiva Villas Resort & Spa
An exclusive haven of privacy and luxury spreading over 27 scenic acres, the five star resort Maradiva Villas Resort & Spa, lies along the Flic en Flac beach, offering you a high-end hideaway.
Its villas are set in luxurious tropical gardens in a natural and quiet setting offering privacy and tranquility to guests. Stay in the intimate harmony of your own private air-conditioned villa, where you could benefit a 24 hour butler service for your needs. Ideal for couples or families, each Villa is tastefully furnished and equipped.
Enjoy the award-winning Holistic Spa which is strongly influenced by Indian philosophy. It offers western as well as eastern signature Indian treatments for a complete rejuvenation. You can also find a wide range of cool recreational activities featuring: snorkelling, water skiing, hobie cat, sailboat, pedalo, kayak, windsurfing, and many other options.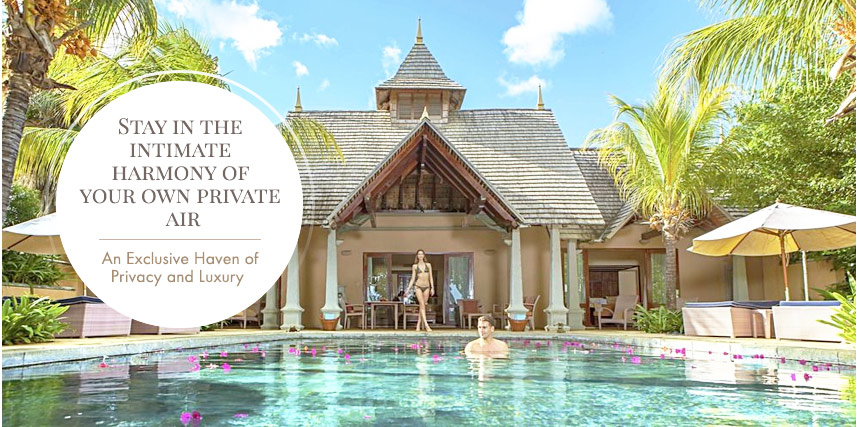 Also golf enthusiasts can play a round at the Tamarina Golf Course, just a 15-minute shuttle ride from the hotel. Designed by Rodney Wright, the magnificent 18-hole championship course stretches along 106 acres, offering golfers breathtaking views of the Rempart Mountains and Tamarin Bay. The course is suitable for players at all levels, and the signature hole is the par-3, 13th, played from a tee box perched above the Rempart River.
65 Pool Villas
6 Treatment Rooms
2 Restaurants
1 Bar
24h Butler Service
1 Main Infinity Pool
---
St Regis Mauritius Resort
Reclining on white sands and a turquoise lagoon, the St Regis Mauritius Resort is located on the south-west tip of the island also known as the 'Pearl of the Indian Ocean'. This luxurious 5 Star resort is set in a true heaven - like setting with the majestic backdrop of UNESCO World Heritage Le Morne Brabant Mountain.
With its extensive range of guest rooms and suites, the resort inspires traditional colonial and contemporary styles amid panoramic views in a relaxed environment. All rooms are elegantly furnished and provide either a view over the blue Ocean or tropical gardens.
The hotel's recreational facilities include hot tub, private beach, fitness centre, sauna, golf course (within 3 km) are designed for escape and relaxation. You can also try exciting activities such as the wind or kite surf, snorkelling, and tennis.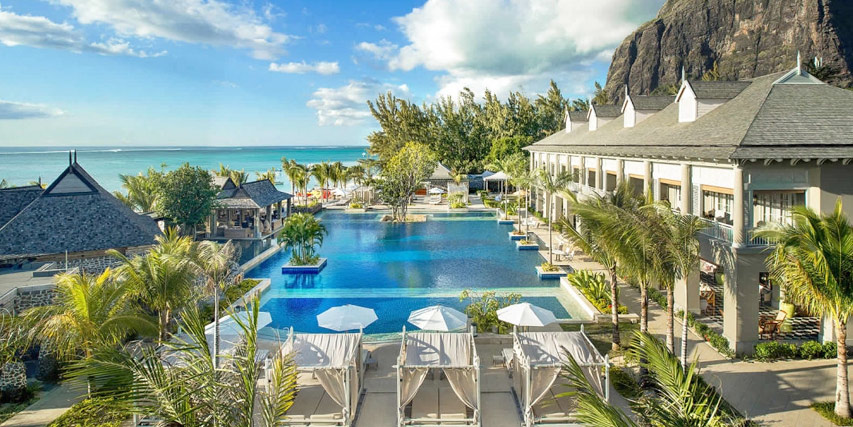 Relish the palatable meals with a diverse choice from the hotel's restaurants featuring the Asian, Indian, French and contemporary cuisine. Le Manor restaurant serves you a fusion of exotic Creole flavour and classic French cooking styles. The Boathouse Grill and Bar has delicious steak and seafood options, and 1904 Bar provides cocktails and snacks.
172 Guest Rooms & Suites
7 Spa Suites
24 Hr in Room Private Dinning
Sea Lounge Boat
6 Exclusive Dinning Venues
1 Bar
---
Constance Le Prince Maurice
Constance Prince Maurice is a 5 star deluxe hotel set within 60 hectares of unspoilt private land in the middle of the lush vegetation of the tropical gardens at Poste de Flacq. The hotel is among the world leaders in luxury hospitality.
It is designed by the mastermind Jean March Eynaud and David Edwards where style, space and exquisite architectural designs are taken into consideration. In a totally secluded area, the hotel offers luxurious and contemporary accommodation featuring suites and villas with excellent amenities.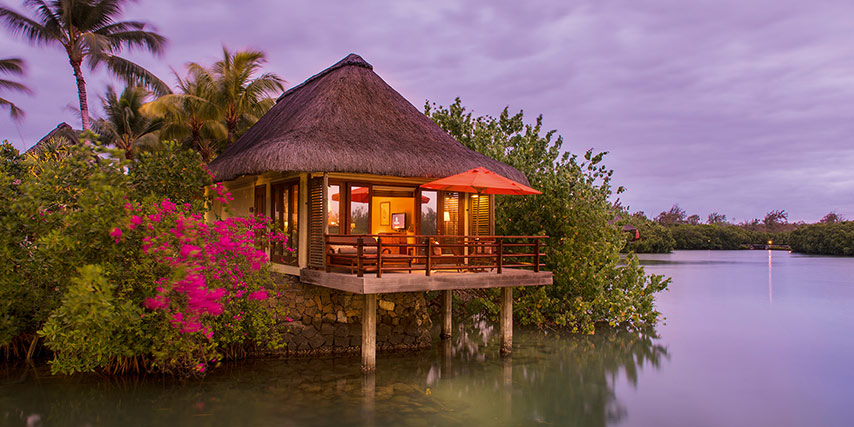 Find yourself in the realm of rejuvenation at the Spa de Constance with Sisley for aromatic treatments combine with massage rituals, and local traditions. Guests can have access to a pool and poolside bar, tennis courts, water sports, kid's club, and shops.
Relish the local and international cuisine with the excellent and reputed restaurants such as L'Archipel, Le Barachois, and le Beach Deck. A choice of bars will provide the perfect setting for that sundowner while taking in the stunning ocean views. The lively Laguna Bar overlooks the pool and the beach and has two sundecks. The bar treats you with a live entertainment every night.
66 Suites
12 Lavish Villas
7 Treatment Rooms
3 Restaurants
3 Bars
1 Wine Cellar
Heated Pool with Sun loungers
2 Floodlit Tennis Court
---
The Oberoi Mauritius
Set across the blue waters of the Indian Ocean - The Oberoi Mauritius lies along the Turtle Bay on the island's curvaceous north-west coast in over 20 acres of beautiful, subtropical gardens and with an impressive 600 metres of beachfront.
This top notch hotel is designed in a creative architecture of stone, wood, and thatch which is a blend of African, Asian, and European style, reflecting the fascinatingly hybrid nature of the island itself.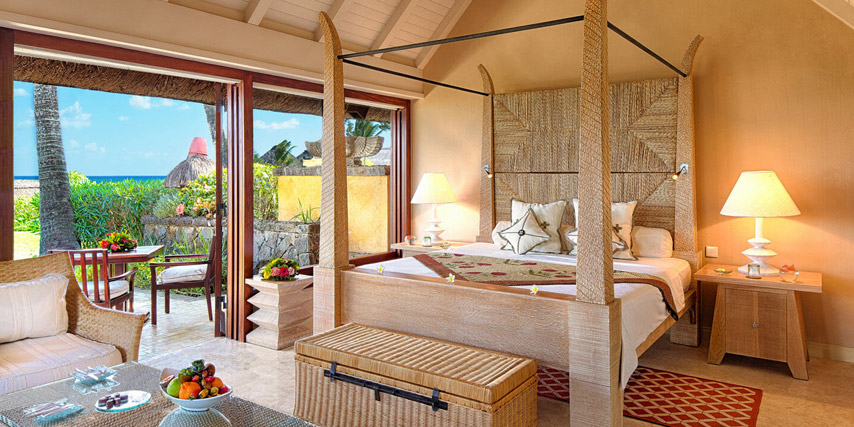 Surrounded by an unspoilt natural environment and within a protected marine park, the hotel also houses four national monuments that date back to the French Colonial period and together make up a battery that was an integral part of the defence system of Mauritius.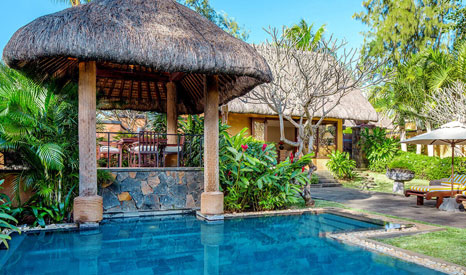 Perfectly suited for couples who need to get away, and relax in a private and exclusive atmosphere, the 71 rooms at The Oberoi feature a romantic four-poster bed and the luxury of a sunken bath in palest marble. The Luxury Villas, most of which have their own swimming pool, a romantic dining pavilion, as well as private lush exotic gardens offer 24 hours butler service.
The restaurant at the Oberoi, features a soaring roof of palm-thatched timbers and panoramic views across the Indian Ocean. Dine inside among the pillars, or outside under the stars on a fabulous menu featuring European, Oriental and Creole dishes, reflecting the multicultural flavour of the island and introducing fresh local fruits, vegetables and spices.
Secluded by indigenous trees and framed by a lush tropical garden, the spa at The Oberoi, Mauritius is an oasis-within-an-oasis. There is a range of international therapies which harmonise modern sciences and ancient philosophies. Guests can also experience hatha yoga, t'ai chi and meditation.
71 Rooms & Villas
24 Hour Butler Service( Villas)
2 Infinity Pools
Fitness Centre
2 Restaurants
1 Bar
Wine Cellar
---
Angsana Balaclava Mauritius
Angsana Resort & Spa, a top 5-Star luxury resort situated along the beautiful beach of Balaclava is an ideal oasis for relaxation and privacy; a tick off must experience for a luxurious stay in a tropical island.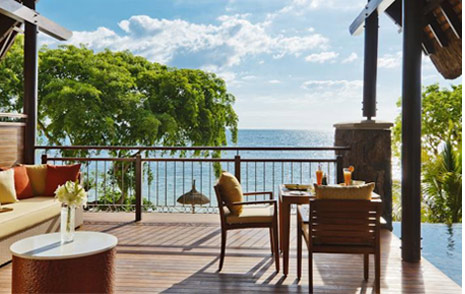 This remarkable beach resort features highly comfortable and spacious luxury accommodation for you to enjoy the highest level of standards.
Designed with a fusion of Oriental, Occidental and African influences, the suites are blended with natural wood, modern furnishings and stone walls.
Its full-length glass windows let natural sunlight in to give you views of the perfectly landscaped Mauritius luxury resort grounds.
All you have to do is to walk barefoot across cool stone floors, rest in warm and earthy interiors, and admire the combination of vibrant tiles and vivid Indian Ocean blues-for a soothing and relaxing staying experience.
For your convenience find a myriad room amenities which feature air condition, separate dressing area, dressing table, complimentary wifi access, spacious Verandah with dining table, large working desk, mini-bar, tea and coffee-making facilities, including Nespresso machine, and the list goes on.
Pick from an array of unique treatments using the freshest local ingredients such as coconut lime glory body polish, ginger lemongrass body polish or oatmeal banana body polish. Relax in a setting designed to soothe all of your senses at Angsana Spa Balaclava Mauritius.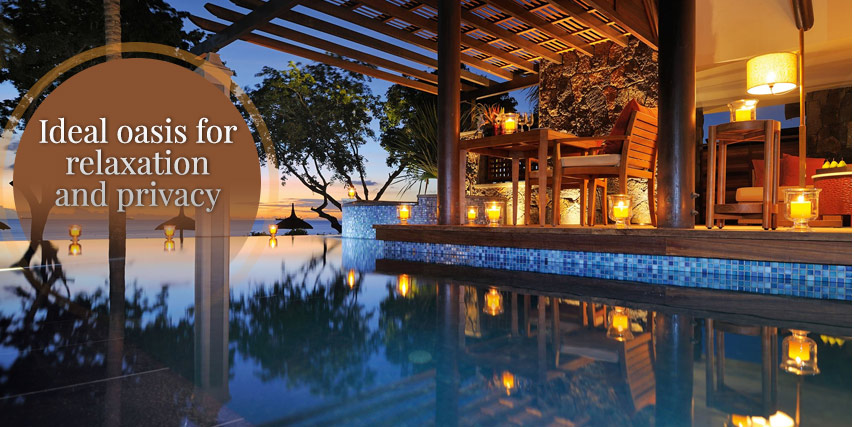 The Angsana also does not fall short on their list of things to do, offering you a wide range of recreational activities such as: water-skiing, glass bottom boat, mini soccer, sailing, wind surfing, kayaks, pedalos, and yoga sessions. All of these (and more) will entertain you with full excitement and fun! In addition, you are offered hot tub, fitness centre, sauna, and outdoor pool.
When staying at the Angsana Balaclava you are sure to discover exotic Mauritian Asian Fusion cuisine, together with an extensive array of international cuisine with mouth-watering Western favourites, and venue for breakfast served daily at the Oryza restaurant!
49 Suites
1 Imperial Pool Villa
2 Pools
2 Restaurants
Al Fresco Beach Venue
1 Bar & lounge
Spa & Wellness Centre
Wine Cellar
Library
Angsana Gallery
---
Anahita Golf & Spa Resort
The refined and luxurious 5-Star Anahita Golf & Spa Resort is set amongst 213 hectares of lush gardens on the eastern coast of Mauritius across Ile aux Cerfs. Experience an opulent retreat in a serene and soothing environment, engulfed by nature in its pure essence.
Live the authentic Mauritian charm with the lavishly - designed accommodation featuring garden, sea or golf views suites equipped with fully fitted kitchen, dining areas and a generous veranda with a private step-up plunge pool. You can also experience the luxurious villas which come with high quality amenities such as large dressing, safe, designer bathroom, walk in shower, double sinks, bathrobe and many more.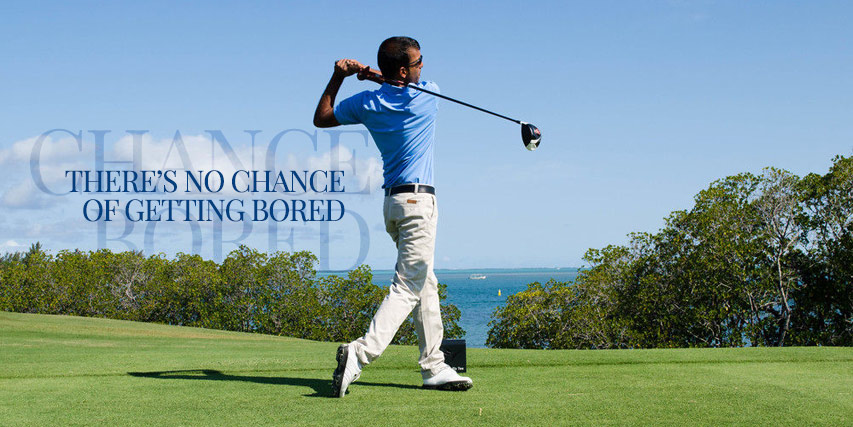 Being one of the best luxury golf villas in Mauritius, Anahita Resort has surpassed luxury in addition to unique golfing experience. Take advantage of the 2 golf courses signed Ernie Els and Bernhard Langer, at Anahita and Ile aux Cerfs respectively.
There's no chance of getting bored with the fun activities such as: glass bottomed boat, snorkeling, windsurf, kayaks or stand up paddle. You can also enjoy the many recreational facilities such as private beach, fitness centre, outdoor and indoor pool to make a fun-packed stay.
70 Lavishly furnished Suites
28 Luxurious Villas
24 Hour in room dining
2 Golf Courses (Anahita & Ile aux Cerfs)
2 Beaches
4 Restaurants
1 Bar
1 Coffee Shop
1 Candy Shop
---
Dinarobin Hotel Golf & Spa
Dinarobin Hotel Golf & Spa features as one of the best hideaway luxury hotels in Mauritius because of its stunning scenic shoreline and tranquil paradisiacal location. A real tropical hotel vacation amidst lush exotic plants which aims to renew your entire being.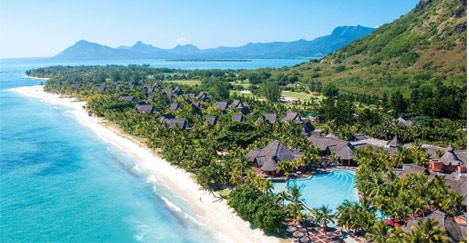 This elegant resort offers an intimate village setting, and features luxurious all-suite accommodation that blends harmoniously into the lush tropical gardens.
Its 172 inviting rooms are designed to escape the stresses of the day equipped with a wide range of amenities.
All rooms have a balcony and some offer views of the Indian Ocean. Each suite has a modern bathroom stocked with free toiletries.
For discerning and privileged guests, Dinarobin Villas ensure space and comfort with an amazing view over the west coast and its unforgettable sunsets.
Facilities include: private beach facing one of the island's most beautiful lagoons; heated private pool; Personal chef on request and private butler.
This quietly upmarket sanctuary offers you soul soothing tranquillity at its Clarins spa, where you can find massage rooms, Ayurvedic area with 2 cabins and meditation deck; 2 saunas; 2 hammams; heated swimming pool. There is also a fitness room dedicated for personal training.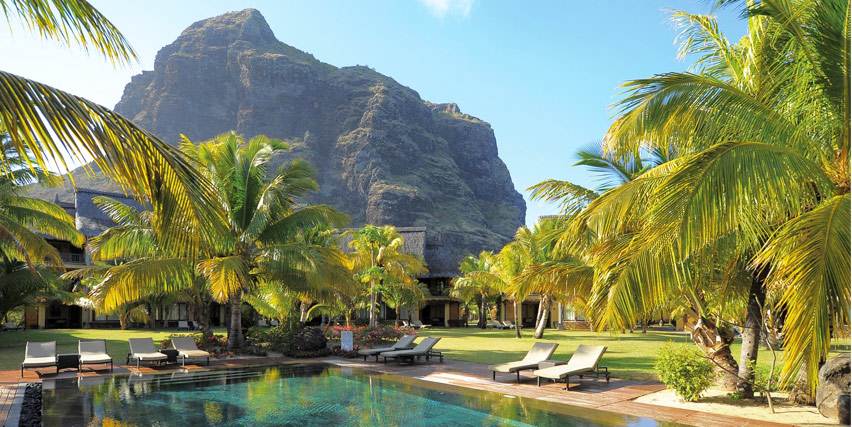 Recreational activities include: mountain biking, bocci ball, tennis (3 floodlit courts), badminton, kayak, pedal boat, windsurfing, water skiing, and sailing. A spectacular 18-hole, par 72 golf course set within the grounds of the hotel for an exciting play experience at the Paradis Golf Club. Enjoy privileged access to three other golf courses, the Heritage Golf Club, the Tamarina Golf Estate and the Avalon Golf Estate.
Food lovers have a choice of 8 inventive restaurants for a variety of dining experience. Restaurants offer tantalising international cuisine, including mouth watering seafood. And those wishing for refreshing drinks can access to the bar which opens until sunset.
175 Suites
3 Villas
13 Massage Rooms
Access to 8 Restaurants (4 from Paradis Hotel)
1 Bar
1 Club
Private Butler
5 Swimming Pools
---
One & Only - Le Saint Geran Hotel
Located in the incredible peninsula of Belle Mare, in the heart of a 60-acre tropical garden, along a beautiful sandy beach, One & Only - Le Saint Geran hotel is the perfect retreat for guests seeking luxury accommodation and amenities in an elegant setting. The peninsula is situated near the site of Le Saint Géran shipwreck which was immortalised in Bernadin de Saint-Pierre's novel Paul et Virginie.
The hotel architecture reflects the Mauritian influences into consideration. The iconic colonial-style hotel features its 162 spacious suites and one villa consisting of private terrace or balconies facing with great views of the ocean or lagoon, whilst the back door opens onto a tropical garden. The bathrooms are beautifully appointed, and are designed with great cascading showers.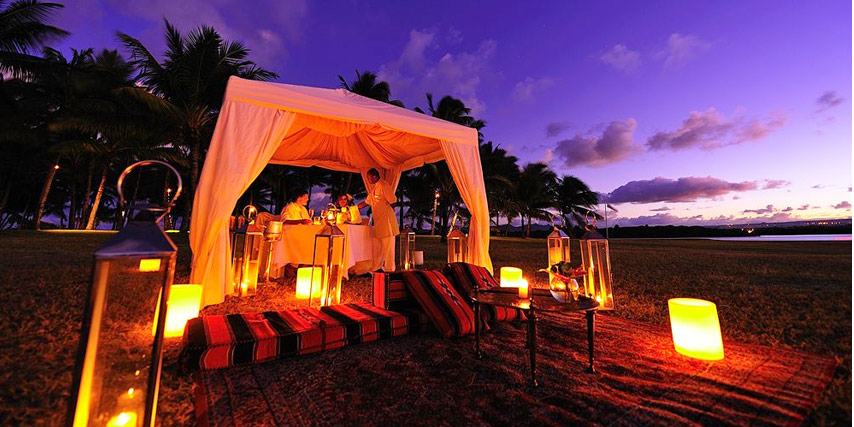 The stunning Gary Player 9-hole golf course provides incredible play amidst world-renowned beauty. The par-33 course offers complimentary green fees for guests, and caters for players of any skill.
The fully-equipped spa is a privileged place for the relaxation of mind and body with highly qualified personnel, eight treatment rooms, a comprehensive range of body and facial treatments, sauna, stretching room, lap pool and health and fitness facilities. The spa offers a holistic approach, and complete treatments together with a personalised sports programme, beauty and hair advice.
162 Suites
1 Villa
3 Restaurants
3 Bars
1 Lounge
8 Treatment Rooms
---
Paradis Hotel & Golf Club
Get into the picturesque site of le Morne Peninsula, and have a fun, and relaxing vacation at the Beachcomber Paradise hotel. The hotel is surrounded by an extremely beautiful beach, lush garden with palm trees, swimming pool, and a spectacular golf course with the UNESCO World Heritage Site of Morne Brabant Mountain in the backdrop.
The accommodation comes with 280 inviting rooms and suites decorated in natural tones, featuring a never ending list of luxurious amenities to ensure a comfortable stay. All rooms offer Indian Ocean views from a private furnished balcony, some of which are directly on the beach.
Pamper yourself at the renowned Spa, affiliated with the prestigious Clarins brand in an atmosphere of pure indulgence. You will find the skillful beauty therapists specialised in modern and traditional techniques drawn from countries around the world. Spa facilities include saunas, hammams, massage rooms, therapies, hairdresser, and beauty parlour. There is a nightclub for adults, while children can be entertained at the Paradis' mini-club.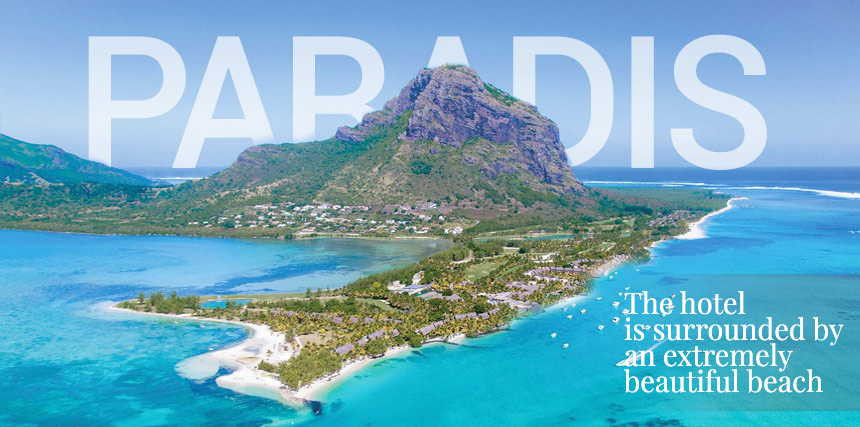 Savour the scrumptious menus offered by the amazing restaurants serving from local to international cuisine. You will find 'Le Brabant' restaurant which provides buffet menus of international cuisine, while La Palma restaurant offers Italian dishes. Blue Marlin is a seafood restaurant and La Ravanne creates creole specialities.
280 Rooms & Suites
13 Villas
2 Exotic Spas
18-Hole Golf Course
4 Restaurants
2 Bars
Private Beach
Private Butler
Access to other golf courses: Heritage Golf Club; the Tamarina Golf Estate; Avalon Golf Estate
---
Lux* Belle Mare
One is bound to be charmed by the colonial style and cozy atmosphere of the luxurious LUX Belle Mare hotel situated in the village of Belle Mare on the eastern coast of Mauritius. LUX Belle Mare is one of the most lavish hotels in the island; it welcomes you with its pristine white beaches and azure lagoon. Those who have an inclination for finer things of life are undoubtedly going to enjoy their stay in the hotel.
Dressed in soothing whites and vibrant bright colour, each of its thatch-roofed suites and villas is blessed with incredible sea views. They are made to excel comfort and coziness with the 5-Star facilities and amenities. LUX* Belle Mare inspires real feeling of that rare, sought-after tranquility that everyone longs for.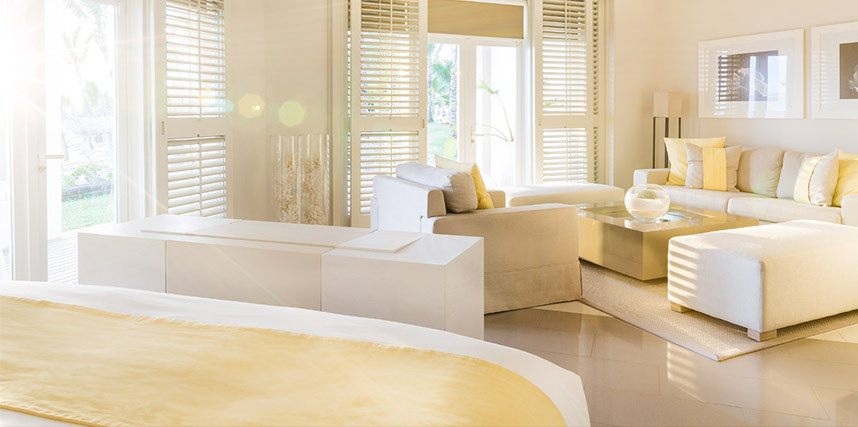 Unwind yourself at the enormous swimming pool which lies at the heart of the resort, or enjoy the varied sports such as windsurfing, pedal boat, kayak, aqua gym, mini sails, snorkeling, glass–bottom boat, water skiing, beach volley, table tennis, soccer and tennis during your stay.
Get your papilla tantalised by the hotel's main restaurant, featuring palatable dishes and themed buffets; the Beach Rouge Restaurant offers a la carte menu comprising Mediterranean, South-East Asian and local traditional menus. There is also a myriad of drinks and cocktails offered at the hotel's bar.
174 Sea Facing Suites
12 Private Villas
12 Treatment Cabins
2000m2 Swimming Pool
4 Restaurants
1 Café
1 Bar
24hr Room Service
---
Heritage Le Telfair Golf & Spa Resort
Perched on a beach, with the surrounding lush green garden, Heritage Le Telfair Golf and Spa is situated in the heart of Domaine de Bel Ombre. Member of the 'Small Luxury Hotels of the World', Heritage Le Telfair boosts a stylish elegant colonial architecture exuding the ambiance of grand tradition properties for a stay tailored around fine dining, personalised service, and exclusive spa facilities.
At the Heritage Le Telfair Golf & Spa, enjoy unparalleled sea views and direct beach access, and ensconced in one of the spacious and stylish accommodation which is adorned by colonial inspired design. Rooms and suites have carefully been appointed to the highest degree of comfort and convenience.
Live an unforgettable golfing experience with the award winning Heritage Golf Club Course which flanks by the rolling mountains on one side and the blue waters of the lagoon on the other. The golf course was designed by Peter Matkovich and Hayes firm, featuring an 18-hole course par 72, and a 9-hole course par 3.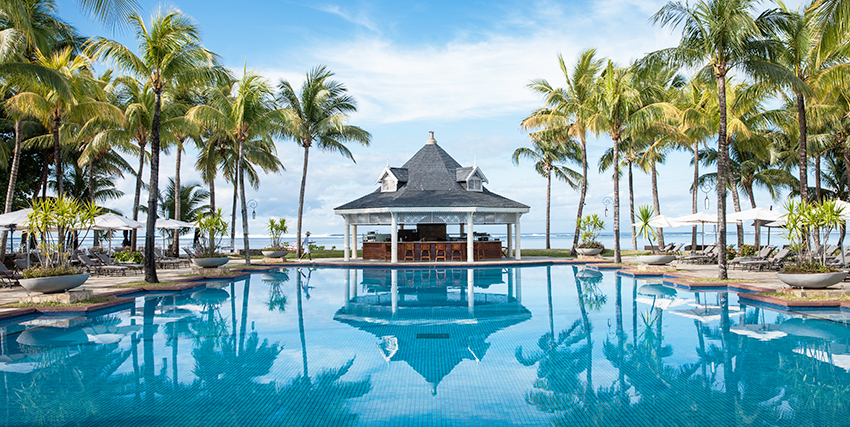 The hotel's recreational facilities, which include pedal boats, canoe, mini golf course, snorkelling trips, water-skiing sessions, private beach are designed for escape and relaxation. Guests can also take a walk in the garden or relax by the Citronniers River.
For your taste buds do visit the hotel's fine restaurants and bars offering a plethora of delicious dishes and drinks. Mediterranean barbecues can be enjoyed at Le Palmier, by the swimming pool. The beachfront Gin'ja serves Pan-Asian cuisine in a relaxed setting.
158 Sea or River view Rooms
20 Villas
2 Swimming Pool
4 Restaurants
1 Bar
C Beach Club
Golf Course